Adam Nathaniel Furman on how queer spaces have shaken up the architectural canon
The architect, designer and artist offers a first look at their new London studio, and discusses their recent book, Queer Spaces, an accessible compendium of meaningful environments for the LGBTQ community. This article will feature in the August 2022, Design for a Better World issue of Wallpaper*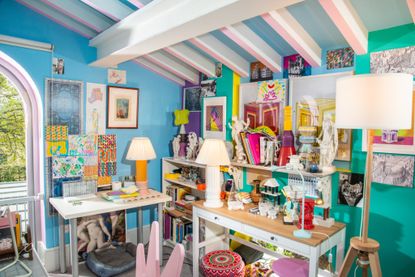 (Image credit: Alexander Coggin)
Wallpaper* Newsletter
Receive our daily digest of inspiration, escapism and design stories from around the world direct to your inbox
Thank you for signing up to Wallpaper. You will receive a verification email shortly.
There was a problem. Please refresh the page and try again.
Belsize Park, in north London, exudes a genteel conformity. The neighbourhood's leafy streets are lined with archetypal Victorian houses, fronted with stucco and pale brick, and offset from the pavement to accommodate well-manicured front gardens. Adam Nathaniel Furman's home is set on one of these streets, occupying a characteristically handsome coach house. But on the other side of the front door, it quickly becomes clear that this is far from the typical Belsize Park abode.
The arched doorway to the studio opens to reveal a riot of colour and clutter. The walls are lilac and mint green, the gabled ceiling is baby blue and pale pink, and there are accents of bright yellow throughout – colours that clash on paper but somehow come together as a cohesive, exuberant whole. The space is replete with Furman's design output: rugs that evoke the ornamental traditions and summer light of the Mediterranean, a table with a flamboyant radial pattern, lamps with fluted porcelain bodies reminiscent of Roman columns, painted plywood chairs whose forms approximate intimate body parts. We see ceramics, cushions and prints galore. There's also a formidable collection of books, which helps explain Furman's broad intellect – they can delve into topics ranging from Susan Sontag and Star Trek with ease.
The space points to Furman's deep entanglement with architectural history, an affinity for wide-ranging cultural references (they are of Argentine and Japanese descent, and grew up in London), as well as their fierce determination to centre queerness in their architecture, design and art. This is a confidently queer space, one that could have justifiably featured in their new book, Queer Spaces: An Atlas of LGBTQIA+ Places & Stories, co-edited with architectural historian Joshua Mardell. Though for reasons of modesty and timing, the studio hasn't made the cut. The August 2022 issue of Wallpaper* is its first appearance in any publication.
As Furman and Mardell describe in the book's introduction, when you are 'somehow different in a visible unconcealable way, you seek out spaces where you can simply be yourself, unmediated and unfettered, spaces where you can act freely in a manner that is truly consonant with your inner self'. Queer Spaces takes in more than 90 spaces around the world, from across two centuries, where queer people could live authentically, access their shared heritage, and build a sense of community. There are a few expected inclusions – among them Christopher Street, in New York, where the 1969 Stonewall Riots set the Pride movement in motion, and Prospect Cottage, in Kent, the final home of filmmaker and LGBTQ activist Derek Jarman. But for the most part, the featured spaces are either lesser known, or not commonly identified as queer. The edit affirms lineages that are deeper than often acknowledged, reclaims queer narratives that have often been sidelined, and reveals that queer people have consistently found ways to support one another and thrive, even in the most hostile environments. Furman, who has an active presence on social media, has tweeted that the book 'is about smashing open the architecture canon'.
In case anyone is interested, any and all money that comes my way from Queer Spaces goes straight to LGBTQIA+ charities & organisations, with a good amount already having been donated. While this is not the reason for the book, which is about smashing open the architecture canon pic.twitter.com/Lw80GPGJxfApril 9, 2022
See more
Put together with the help of nearly 50 contributors, Queer Spaces is divided into three sections: domestic, communal and public. The domestic section shows how queer individuals created 'lasting and meaningful environments [...] where memories could be accumulated, milestones in life can be celebrated, and their value as humans to one another be affirmed and marked in physical form'. Some of these are from recent decades: Jarman's cottage; a steel house in Chiba, Japan, called Dracula's Den with neither windows nor entrance (it is lit by skylights and accessed via a shutter for loading artworks); a Dhaka rooftop that offers refuge to trans and gender-nonconforming people; and Hotel Gondolín, a collective home for trans women in Buenos Aires.
Others aim to show that 'our history goes back a lot further,' explains Furman. A particularly poignant entry introduces the former Knockaloe Internment Camp on the Isle of Man, which held civilian internees of German, Austro-Hungarian and Turkish descent during the First World War. All of them were assigned male at birth, which necessitated occasional gender nonconformity in theatre performances. Some chose to live as female full-time, and the book posits that they felt empowered by the opportunity to present as female on stage.
Furman's own engagement with queer themes had once been a source of loneliness: 'My projects were ridiculed and laughed at,' they recall. This experience inspired a fondness for solitary 19th-century gay figures who created their own aesthetic worlds, such as King Ludwig II of Bavaria. Today, tourists flock to his three castles, including Neuschwanstein (which inspired Walt Disney) to admire their extravagant construction. But, as Furman points out, they are more than a spot of fun, or a reflection of the king's madness. 'Ludwig was unable to give into a sexuality which he felt great shame about. So he retreated, like many in his generation, into imagined pasts which accepted him.' Viewed in this light, the palaces are not only feats of architectural imagination, but also responses to real psychological and sociological needs felt by queer people throughout history. The same can be said of many queer personal spaces today, which deserve examination and appreciation beyond surface level.
The communal section of the book shows queer people coming together in spaces of mingling and defiance, and it is here that we find a smattering of familiar bars and nightclubs: the Royal Vauxhall Tavern in London, the Palladium in New York, New Sazae in Tokyo, Kitty Su in New Delhi, Theatron in Bogotá. As a queer teenager who felt alienated at school, Furman felt the affirming qualities of LGBTQ nightlife personally. 'I probably wouldn't be alive if it wasn't for the local gay pub that took me in and gave me tea,' they confess. 'I studied there, and they told me that there's this whole world where your body is not disgusting and what you did is actually fine. It really saved me.'
But Furman is also mindful that queer communal spaces can take many other forms, and so this section of the book further includes a queer-run market in San Juan, Puerto Rico, an independent bookstore in Glasgow, and a tattoo bar in Thailand, and a prototype for an all-gender public restroom created in response to debates in the US surrounding transgender access.
The final, public section of the book is the most illuminating, offering proof that wherever queer spaces are needed, queer people will always find a way. 'Often the public sphere – in the interstices and gaps of cities, and at times of day when the rest of the population might be absent – is the place where queer lives can be lived most freely,' write Furman and Mardell. We learn that in Mexico City, where homophobia and machismo are embedded in national culture, the last train carriage of the Metro is often appropriated for queer sexual encounters, and as safe spaces for the gender-nonconforming. In Managua, the capital city of Nicaragua, the Santiago Apóstol Cathedral was abandoned by the church in the 1970s and taken over by queer people who had nowhere else to socialise. In Havana, an ice cream parlour called Coppelia offers subsidised treats in a bid to persuade the masses of the virtues of communism. In spite of state-sanctioned prosecution of gays, it became a cruising spot, and the 26 flavours on offer were appropriated as symbols of sexual orientation.
Says Furman: 'There are great examples of queers taking over the various symbols of power of regimes that don't like them, which is one of my favourite typologies. We tend to gravitate towards the greatest symbols of our oppression, and just totally invert them.' It is apt that Furman's design practice has involved turning monuments into queer forms. Their public installation Proud Little Pyramid, which stood at London's Kings Cross for six months in 2020, used the recycled structure of the giant King's Cross Christmas tree from the year before, transforming the latter's monumentality into 'a fabulous performance of exuberant queerness'; while a recent AR piece for the Barcelona Architectures Festival reimagined the city's Arc de Triomf as an homage to the uncelebrated victories that have advanced the cause of LGBTQ equality.
Furman believes that Queer Spaces can fill a major void in architectural discourse. There have been academic texts on queer spaces in the past, notably Beatriz Colomina's Sexuality and Space, and Aaron Betsky's Queer Space: Architecture and Same Sex Desire, both from the 1990s (Betsky has been openly supportive of Furman and Mardell's book, describing it as 'a rich stew of the strange, the wonderful and the queer'). But there wasn't an accessible compendium of queer spaces that could offer reference and validation to young people. Furman says that, as a student, they 'would have killed to have a canon of important spaces and ideas, so I could say, "look, what I'm doing is fucking serious, and has a history".' For this reason, Queer Spaces strikes a fine balance between offering substance and depth, and remaining jargon-free. And amid an industry that is still dominated by the West, the book's remit is deliberately global, showing that queer people are everywhere.
The visual presentation has been equally important: the cover, which is mint green with bold holographic type, feels subversive yet elegant. 'We want it to proudly take up space in homes that have books about the Italian Renaissance and contemporary interiors,' says Furman. The pages are richly illustrated with both archival imagery and newly commissioned photographs, a remarkable feat considering the book came together during the Covid pandemic, when many of the featured contemporary spaces were shut. Furman is especially effusive in their praise for their collaborator Eusebio Penha, a microbiologist who moonlights as a photographer and shot the book's Mexico City spaces.
Though measured in their optimism about the advance of LGBTQ rights (Furman is distressed by a dangerous movement to disassociate trans people from the rest of the queer community), they acknowledge that the tide is turning. One of the final entries in the book is on Melbourne's Victorian Pride Centre, a 2021 building that leads visitors through arches and vaults to a five-storey atrium – an allegory of coming out. Its spaces are taken up by LGBTQ organisations of various stripes, which delights them: 'It's actually saying: we [queer people] are still a coherent group, and we'll use our newfound power to support one another.'
Popular appreciation for Furman's work has grown: 'We've come to the stage where I no longer have to justify my existence every time I put myself into the public space.' It is indicative that Queer Spaces is published by the Royal Institute of British Architects, the bastion of a typically slow-moving industry. Likewise, Furman's burgeoning reputation has meant that they hear from many young people who want advice on queer architectural pursuits. 'Increasingly, rather than feeling frustration and anger at tutors who fail to understand their work, these students are saying, "Our tutors are open to this, but they don't know how to tutor me." Wider society has changed, but they're pushing against an architectural set-up that hasn't changed. I'm doing my part, but there's a lot of people doing it, too. The younger generation is so clever and savvy, and it's very uplifting.'
Furman would like to see society embrace a wider range of architectural approaches: not only to validate and uplift queer people, but also to encourage greater fluidity of ideas. It relates to their fondness for ornamentation:
'What I love about ornament is that it's like food. It moves between countries, like empañadas [from Portugal and Galicia] to South America. It doesn't abide by borders very well, and it links cultures in really fascinating ways. Ornaments are beautiful things that unite us, and reflect our stories and cultures.'
So far, like many emerging practitioners, Furman's architectural commissions have mostly been private spaces and temporary public installations, but they hope to one day create a skyscraper in the model of Louis Sullivan, who integrated ornament with modernist structural expression. Also on their wish list? A London Underground station: 'The Eduardo Paolozzi mosaics at Tottenham Court Road [leading up to Soho] are so grungy and gorgeous, like being in this gay, sparkling cave of grime. It's the gateway to my freedom. You see Paolozzi coming out of a lot of my work, because it just hangs so strongly in my imagination. I love this idea of quotidian, beautifully crafted art as part of the quotidian background of everyday life.'
INFORMATION
Queer Spaces: An Atlas of LGBTQIA+ Places and Stories (£40), edited by Adam Nathaniel Furman and Joshua Mardell, published by RIBA, ribabooks.com, adamnathanielfurman.com
The August 2022, Design for a Better World issue of Wallpaper* is on sale from 14 July. Subscribe today.
Receive our daily digest of inspiration, escapism and design stories from around the world direct to your inbox
TF Chan is a former editor of Wallpaper* (2020-23), where he was responsible for the monthly print magazine, planning, commissioning, editing and writing long-lead content across all pillars. He also played a leading role in multi-channel editorial franchises, such as Wallpaper's annual Design Awards, Guest Editor takeovers and Next Generation series. He aims to create world-class, visually-driven content while championing diversity, international representation and social impact. TF joined Wallpaper* as an intern in January 2013, and served as its commissioning editor from 2017-20, winning a 30 under 30 New Talent Award from the Professional Publishers' Association. Born and raised in Hong Kong, he holds an undergraduate degree in history from Princeton University.
With contributions from