'An Atlas of Es Devlin' maps the artist's extraordinary career
'An Atlas of Es Devlin', a comprehensive look at how to make stage design great, brings together a chorus of collaborators to celebrate the artist's work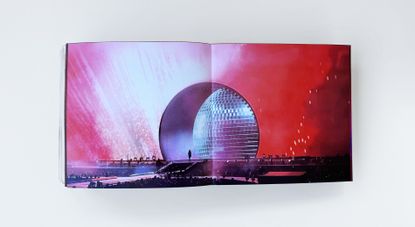 (Image credit: Courtesy Thames & Hudson)
Wallpaper* Newsletter
Receive our daily digest of inspiration, escapism and design stories from around the world direct to your inbox
Thank you for signing up to Wallpaper. You will receive a verification email shortly.
There was a problem. Please refresh the page and try again.
'An Atlas of Es Devlin' is a a compendium of the work of stage sculptor and multidisciplinary artist Es Devlin; over 900 pages of sketches, photographs and interviews covering her lifelong practice.
Coinciding with the installation of the artist's 30-year archive at Cooper Hewitt Smithsonian Design Museum in New York, the book is an attempt to capture the breadth of her titanic career, published by Thames and Hudson. From teenage drawings and paintings, to her colossal stages designed for pop icons like Beyonce, U2 and The Weeknd, the volume chronicles Devlin's extraordinary rise and explosive vision; charting not only the scale, but developing intentions of her practice.
'An Atlas of Es Devlin' book
Describing her sets as 'instruments of communication', Devlin works to sculpt experiences for an audience through a detailed process of sketching, paper cutting and model making, captured throughout the book's 300 colour reproductions and 130 pages of personal commentary texts composed by the artist. For anyone wanting to glean an insight into how cutting edge stage design evolves from inception to jaw dropping finality, the book offers a comprehensive account of the artist's major projects; including the London 2012 Olympic Closing Ceremony, 2022 Super Bowl half-time show with Dr. Dre and Kendrick Lamar, and the Beyoncé Renaissance Tour 2023.
These are embellished with in-depth interviews with her many 'collaborators' (Devlin preferring the term over 'clients'), including Hans Ulrich Obrist, Pharrell Williams, Brian Eno, and many more. Throughout these conversations and the wider volume, the artist details her views on the audience as a form of 'temporary society', her current engagement with the cultural response to our climate and civilizational crisis, and the dialogue between music, poetry and the physical manifestation of ideas in her sculpture.
Working to foster 'intimacy on a grand scale', Devlin's art connects a profoundly personal vision, her unique voice, with the cheering community of thousands in her audience. If anything can be gleaned from studying the tome, it's her gift for exciting and enhancing the collective, as they bask in the light of her stage.
This power comes from her ability to channel her collaborators' ideas, and myriad influences from drama, visual art, poetry and opera libretti; all focused into the execution and elaboration of marvellous visions for what performance can be. Devlin's hand can be seen on all levels of her productions; whether designing for theatre, opera, stadium concerts or ceremonies, her vision extends from the minute to the macro, and is informed by the totality of this broad experience.
As the editor of An Atlas, Andrea Lipps, explains: 'It is impossible to pin Es Devlin to a singular title. She is polymathic. She is a storyteller, an artist, a designer, a director, a poet, a visionary, perhaps even a shaman, whose work razes through disciplinary boundaries.'
An Atlas of Es Devlin will be released on 19th October 2023, and is available for preorder via Amazon
Receive our daily digest of inspiration, escapism and design stories from around the world direct to your inbox