Arii Irie, Japan: Wallpaper* Architects' Directory 2023
Japanese practice Arii Irie has joined the Wallpaper* Architects' Directory 2023, our annual round-up of exciting emerging architecture studios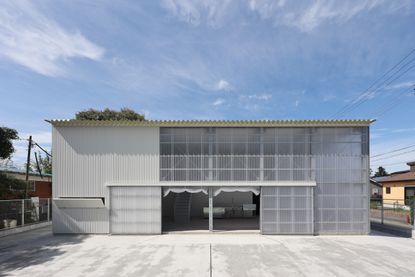 (Image credit: Kai Nakamura)
Wallpaper* Newsletter
Receive our daily digest of inspiration, escapism and design stories from around the world direct to your inbox
Thank you for signing up to Wallpaper. You will receive a verification email shortly.
There was a problem. Please refresh the page and try again.
Arii Irie from Japan has made waves with its Warehouse Villa, a residential project in Isumi born of the transformation of an industrial building into a home. Now, the studio, which was founded in 2015 in Tokyo by Atsuo Arii and Kako Irie, has joined the Wallpaper* Architects' Directory 2023, our annual list of exciting emerging practices from across the globe.
Who: Arii Irie
Atsuo Arii and Kako Irie met while working at C+A Tokyo, a joint architectural practice once headed by Kazuhiro Kojima and Kazuko Akamatsu. Kojima passed away in 2016 and both Arii and Irie sees him as the biggest influence on their practice; 'We both worked under him until he passed away and are deeply influenced by his interest and perception of architects as a mould for air, natural light and human activities,' they elaborate.
The couple like to take on a variety of projects and despite only setting up shop in 2015, have already worked on a wide range of buildings, from coffee shops to factories.
'Since most of our projects are something we encounter for the first time, the design always starts from research. Not only about the site but also the actual building type and its historical background and present use. This loosens our minds and helps us break away from stereotypical definitions of architects,' they explain. What excites Arii and Irie about being architects is precisely this opportunity to dissect a slice of the present to see what's going on in the world right now.
What: Warehouse Villa in Isumi
Arii Irie Architects Warehouse Villa in Isumi is admittedly more warehouse than villa. 'The client needed a simple warehouse for storage, but also wanted to be able to use the space as a weekend retreat for family and friends.' With no specific need for climate control, the architects proposed an ultra-simple structure of a steel frame with 0.5mm-thin steel and polycarbonate corrugated sheets for the roof and walls.
On the ground floor, there is a large open kitchen/living room, two toilets and a freestanding bathtub tucked away behind the corner of the main storage space and cordoned off with a full ceiling-height curtain. A steel staircase leads up to a mezzanine above the storage space, where visitors can camp for the night in sleeping bags.
There is no insulation and also no air-conditioning, despite the hot and humid Japanese summers. 'We know this is a bit extreme, but the house is located close to the Pacific Ocean, and with ample openings to make the most of the sea breeze, the house can be naturally cooled down.'
The semi-transparent polycarbonate sheets let in plenty of light and large custom-made sliding doors open up towards an expansive concrete patio in front of the house to create a continuous space for larger gatherings. It's architecture at its bare minimum, but aesthetically pleasing and a fun modern update of the modest warehouse.
Why: Wallpaper* Architects' Directory 2023
Conceived in 2000 as an international index of emerging architectural talent, the Wallpaper* Architects' Directory is our annual listing of promising practices from across the globe. While always championing the best and most promising young studios, over the years, the project has showcased inspiring work with an emphasis on the residential realm. Now including more than 500 alumni, the Architects' Directory is back for its 23rd edition. Join us as we launch this year's survey – 20 young studios from Australia, Brazil, Canada, Congo, Ecuador, Greece, Hong Kong, India, Italy, Japan, Lebanon, Mozambique, Pakistan, Senegal, Spain, Sweden, Switzerland, the UAE, the UK, the USA and Vietnam, with plenty of promise, ideas and exciting architecture.
Receive our daily digest of inspiration, escapism and design stories from around the world direct to your inbox