Architecture books to inspire shelf love
Here at Wallpaper*, we've got architecture books piling up; among them, these are the photographic tomes, architects' monographs and limited editions that we couldn't resist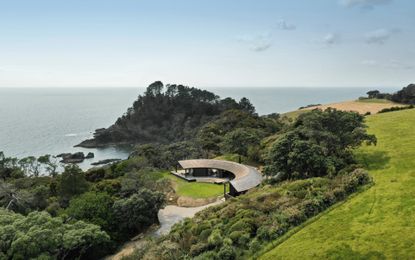 (Image credit: Simon Devitt)
Wallpaper* Newsletter
Receive our daily digest of inspiration, escapism and design stories from around the world direct to your inbox
Thank you for signing up to Wallpaper. You will receive a verification email shortly.
There was a problem. Please refresh the page and try again.
Here at Wallpaper*, we're students for life. We've got architecture books piling up on shelves, desks and floor space surrounding the bookcase, despite minimalist efforts. These are the photographic tomes, architects' monographs and limited editions that we couldn't resist, touching on themes from anime to brutalism.
THE FINEST ARCHITECTURE BOOKS
---
Design in Detail
KPF
This luscious tome is a deep dive into just 14 of the numerous works by prolific architecture studio Kohn Pedersen Fox (KPF). 'Design in Detail' does just what it says on the tin - in beautiful focus too - celebrating the details and craft going into projects such as Floral Court in London; the Petersen Automotive Museum in Los Angeles; and One Vanderbilt in New York City. 'This book tells the story of 14 architectural projects from the vantage point of the detail, the aspects of buildings that affect us most - the parts that we see up close, touch, and even interact with,' said James von Klemperer, KPF President. 'In the case of most thoughtful design, the part and the whole are closely related. Micro and macro - the brick and the wall, the window and the facade, the shingle and the grand roof - are inextricably linked.'
Rene González Architects: Not the Little House on the Prairie
Arquine
The Prairie Avenue Residence is arguably Miami based architect Rene González's most famous project - a home that once completed inspired numerous others, and featured in the BBC miniseries 'The World's Most Extraordinary Homes.' Now, a new monograph by publisher Arquine, explores its design and building process, with the additional bonus of texts by architects Charles Renfro and Cecilia Hernández Nichols, as well as photographs by Michael Stavaridis. Hernández Nichols describes the scheme: 'If the Prairie Avenue House is an astute response to environmental climatic conditions, it is not because the architecture is the result of a technical and quantitative analysis; rather, it is René's intuitive response that creates a kind of biomimicry that he finds naturally.'
Quiet Spaces: William Smalley
Thames & Hudson
Projects by architect William Smalley; an essay by artist Edmund de Waal; photographs by Harry Crowder and Hélène Binet; this new book by Thames & Hudson has lots to entice with. Smalley's work, known for its elegance, poise and peaceful interiors, is placed here next to well known examples of globally acclaimed 'quiet spaces' - inspiring the book's title. Juxtaposed projects include a sixteenth-century villa in the Veneto by Andrea Palladio; Geoffrey Bawa's own homes in Sri Lanka; Luis Barragan's house in Mexico City; and the Secular Retreat in Devon by Peter Zumthor. These sit alongside Smalley's own Bloomsbury Apartment, as well as designs by his studio, such as a modernist London house and an Oxfordshire farmhouse.
Work from Shed
Hoxton Mini Press
Celebrating alternative workspace and working from home, 'Work from Shed: Inspirational garden offices from around the world' delves into the world of mini offices, set in verdant surrounds. 'If part of the joy of sheds is about elemental simplicity – a single room, four walls and a roof – it can also be about giving free rein to invention. They can be your own personal version of the follies that 18th-century aristocrats built in the landscape gardens of their country houses. They can be fantastical as well as functional,' writes architecture critic Rowan Moore in the book's introduction.
Walter Gropius, An Illustrated Biography
Phaidon
The name Walter Gropius needs no introduction, but in comparison with his contemporaries and colleagues like Le Corbusier, Mies van der Rohe, and Marcel Breuer, Gropius's life and oeuvre have attracted markedly less attention. This new visual biography grounds Gropius's work within the context of his unconventional and tragic private life, as well as the political vortex of 1930s Germany. Whilst he never quite had the same high-profile commissions as his fellow émigrés, Gropius's role as a focal point for the global modern movement is unquestionable, and the book is a feast of biographical details and archive imagery.
The Office of Good Intentions. Human(s) Work
Taschen
Florian Idenburg and LeeAnn Suen of SO-IL present an overview of half a century of American office life, romping through the various iterations and evolutions of how and where we work. Covering innovations like the dawn of the digital era and challenges like the pandemic, the book is also a historical journey through some of the best and most diverse ideas for workplace design. With photography throughout by Iwan Baan, it's a timely look at how as key products and technologies have changed the shape and dynamic of the office space.
Norman Foster. Complete Works 1965–Today
Taschen
If the recent Norman Foster exhibition at Centre Pompidou in Paris inspired you, then head to the shops for the latest tome from Taschen that celebrates the master architect's oeuvre. Titled 'Norman Foster. Complete Works 1965–Today', the publication is a comprehensive telling of the story of Foster through two volumes. The architect's lifetime of achievement has been seminal in the built environment scene globally, and through this book you can delve deeper and enjoy a wealth of unpublished images and sketches that have been handpicked by the man himself - as well as eight essays to go with them.
Second Home: a different way of living
Schiffer Publishing
Regular wallpaper* contributor Stephen Crafti has released his latest book - focusing on the alluring typology of holiday homes. 'Almost everyone dreams of owning a second home in some idyllic setting—a place of escape from the daily grind or the hustle and bustle of a city. This wish is becoming a reality for many people as work schedules become more flexible and technology makes working remotely almost seamless,' writes Crafti. Examples included span the globe, ranging from MacKay-Lyons Sweetapple Architects' Smith House, to Jolson Architecture Interiors' House on a Lake.
Transform: Promising Places, Second Chances, and the Architecture of Transformational Change
Monacelli Press
TenBerke's Deborah Berke and Thomas de Monchaux have co-authored a new tome that outlines the New York studio's extensive experience and sustainable approach around adaptive reuse. 'Adaptive Reuse is how architecture helps us grow into a changing world. It combines the best of old and new—through renovation, restoration, regeneration, reimagination, and repair,' the pair writes. 'A practice of sensitive stewardship and creative conservation, it is what turns the obsolete into the germane. The architecture of adaptation offers a new approach to old places that is at once sensitive and bold, at once conscious of histories and legacies, yet optimistically forward-looking to new possibilities. This is the architecture of second chances, of promising places, and of transformational change.'
Sparano + Mooney Architecture: A Way Of Working
Hatje Cantz
Splitting its time between Utah and California, Sparano + Mooney Architecture has been a staple in the American West, since founders Anne Mooney, AIA, and John Sparano, FAIA, established their joint firm in 1997. This new tome, including an introduction by architecture critic Michael Webb, offers an in depth look into the studio's extensive - and still growing - body of work. 'Sparano + Mooney's buildings are reductive and uncompromisingly modern, efficient, and economical. They incorporate lessons from the siting of Native-American settlements, from log cabins and barns, and even from abandoned mining structures. They seek to reinterpret the vernacular, studying what can be learned from the humblest of dwellings in withstanding the extremes of heat and cold, storms and snow loads. Their architecture is a foil to nature and city streets, restrained in form and scaled to its surroundings, with an appropriate palette of materials and color,' says Webb.
Subtropic, The Architecture of [STRANG]
Oscar Riera Ojeda Publishers
Subtropic is a luxurious presentation of Max Strang's work, and his Miami based studio's studies in architecture for the subtropical climate. Alongside Strang's works and words, the book features a forward by Aaron Betsky, architecture writer and critic and Director of the School of Architecture + Design at Virginia Tech, and an essay by Anne-Marie Russell, executive director of Architecture Sarasota. The practice's expertise in residential architecture has, in the past, created projects such as a Miami house inspired by Brazilian architecture, and the site specific Tarpon Bend Residence in Fort Lauderdale - all infused with a Florida style and environmental approach.
Cape to Bluff: A survey of residential architecture from Aotearoa New Zealand
World-renowned photographer Simon Devitt together with designer Luke Scott and writer Andrea Stevens have crafted a book that celebrates New Zealand's extensive body of, and refreshing take on, residential architecture. From glamorous villas, to remote retreats and the rammed earth houses of the country's south. There is a 'crescent-moon shaped bach in Tutukaka and a bivvy house inspired by a goldminer's hut overlooking Lake Wakatipu,' the team highlights. Striking visuals, informative interviews, and imaginative architecture all come together in this gem of a publication.
Collective Action
RIBA
As its title suggests, and co-edited by Rob Fiehn, Kyle Buchanan and Mellis Haward, this is a book about collaboration in architecture. The team served together as creative directors behind the 2021 RIBA Guerrilla Tactics conference 'Stop, Collaborate and Listen,' and took the learnings of that event and expanded it to craft a publication that celebrates working together. 'Small or emerging practices often suffer from a lack of resources, but what if we pooled our collective resources, sharing knowledge and experiences?' the authors ask. The book includes contributions by small and larger, established and emerging studios in the UK, such as Karakusevic Carson, Feilden Clegg Bradley Studio, Archio, New Practice, ArchitetcureDoingPlace, Collective Works, Architects Climate Action, Network, Paradigm Collective, Retrouvius, Lacol, WIP, POoR Collective, Amy Francis-Smith, Stephen Hill and Dhruv Adam Sookhoo.
Dongola Architecture Series
Dongola Limited Edition
The Dongola Architecture Series was conceived to promote and celebrate the work of ground breaking Arab architects. The project, a biannual project produced in Beirut, starts with its first edition on Jordanian architect, artist and anthropologist Ammar Khammash. 'The biannual series aims to highlight the thoughts, processes, and social impact of leading architects from the MENASA region. Each monograph features an architect's story, revealed through in-depth one-on-one discussions with them. By investing in conversations rooted in cultural and methodological innovation, instead of merely showcasing finished buildings, the series uncovers how architects, through their craft, interrogate heritage, engage with labor and gender roles, develop economies, establish social systems, and most importantly, produce culturally specific knowledge,' its creators said.
Alchemy: The Material World of David Adjaye
Phaidon
Unbelievably, Phaidon's new tome on David Adjaye is the architect's very first one to focus on his work, but through the lens of materiality. The book explores more than thirty public, commercial, and residential projects, such as the Museum of Contemporary Art Denver (2007), the Smithsonian National Museum of African American History and Culture in Washington, D.C. (2016), and the Abrahamic Family House interfaith complex in Abu Dhabi (2023). The book is written by writer, editor, and journalist Spencer Bailey. 'To truly understand Adjaye as an architect, one must consider his work through the lens of materials – a crucial concern in his design process from the start, dating back to when he was a master's student at London's Royal College of Art in the early 1990s,' says the publisher.
Arthur Casas. Architecture
Rizzoli New York
A new Arthur Casas book celebrates the Brazilian architect's spectacular architecture, giving it space to breathe in a bespoke monograph from Rizzoli New York. Featuring photography by Wallpaper* favourite Fernando Guerra, as well as Filippo Bamberghi, the book covers 20 contemporary works in richly illustrated detail. Casas has enjoyed a long and illustrious career, working out of offices in São Paulo and New York to create over 500 distinctive modern works, ranging from stores and hotels to a series of beautiful villas, apartments and beach houses, as well as bespoke and commercial furniture projects. Schemes such as his BD House and the +55design store are cases in point.
Flughafen Berlin-Tegel, Andreas Gehrke
Drittel Books
A new architecture book on Tegel Airport celebrates the last days of the seminal German transport hub. Over the past few decades, Berlin's airports have been in flux as the shifting and psychological borders of the Cold War came down and radically changed who needed to fly from where. For decades during the Cold War, East Berlin was served by Schönefeld Airport, while West Berlin relied on c and Tegel. The latter had its origins in the 1948 Berlin Airlift, when it was quickly established to bolster the city's cargo capacity in the face of a Soviet blockade. Tegel lasted right into the modern era, becoming the city's primary airport as Tempelhof closed and Schönefeld was folded into the new Berlin Brandenburg Airport, nearly three decades in the making. Tegel itself is now also closed, and for this new photographic architectural monograph, Andreas Gehrke spent over a year making frequent visits to the vast site as operations gradually wound down and the site closed after the last commercial flight on 8 November 2020.
John Pawson: Making Life Simpler
Phaidon
'One of the reasons why John Pawson's work continues to resonate beyond the sometimes narrow world of architecture is that he is fascinated as much by what happens inside his buildings as by the buildings themselves,' says the book's author, critic and curator Deyan Sudjic, in the introduction. This extensive visual biography is a new tome dedicated to the work of the British designer, who has come to define modern minimalism. The book introduces its audience to Pawson's beginnings, from his start in the world of design and architecture through to his current work, beautifully illustrated with images that include his own photography and ephemera.
Brutalist Paris
Blue Crow Media
The photography and essays in Brutalist Paris are underpinned by five years of research into modernist architecture in the French metropolis; they celebrate the city's brutalist architecture, and also make up the first, expansive architecture book from Black Crow Media, long-time specialist in concrete cartography. With photography by Dr Nigel Green of Photolanguage and words by Bartlett associate professor Dr Robin Wilson, Brutalist Paris is very far from being a light-hearted skim over the uncompromising aesthetics of the city's post-war concrete architecture. Instead, it puts the spotlight on 50 key buildings, connecting them with seven academic essays that look deep into French culture's relationship with architecture, modernity, and social change.
Modern Cambridge Architecture Map
Blue Crow Media
This map of modern Cambridge architecture explores more than 40 buildings throughout the British city, touring its rich art deco, brutalist, postmodern and high-tech building heritage. Covering both the local and international architects that have made their mark here, Modern Cambridge Map refocuses our attention, moving it away from the well-documented historic university buildings, and onto more contemporary forms, as well as the city's extensive modernist architecture legacy. 'You'll see the city in a whole new light,' says architecture, design and culture writer Harriet Thorpe, the map's author and a former Wallpaper* staff member. The selection spans from the angular Arup Associates-designed David Attenborough Building to the boxy extensions of the Cambridge School of Architecture and its university housing, designed by Alex Hardy and John Wilson; this is a layered survey of 20th-century design.
On the Street: In-Between Architecture
HENI Publishing
The history of street furniture and public infrastructure is the topic of a new design book by architecture writer Edwin Heathcote. Titled On the Street, the tome is an encyclopaedic view of everything that happens in the public realm, from structures designed to host advertising to balustrades, from traffic lights to benches. Divided into topical chapters with informative and humorous names (Sitting, Signing and Pissing all being examples), the book aims at charting a history of what Heathcote calls 'the in-between architecture'. Street furniture, he explains in the book's preface, is 'that category of things which punctuates our journeys through cities and accompanies us in the streetscape, but to which we have become inured and almost blind'. However, he observes how these objects and structures are often more enduring than the buildings themselves, and relate more closely to the human experience of cities and public spaces.
Brutalist Britain
Batsford
Architectural historian, senior architectural investigator with Historic England, and Twentieth Century Society collaborator Elain Harwood's tome on Britain's brutalist architecture skyline is a joy. New photography and valuable insights come together in a book that celebrates this section of the country's heritage. 'These dramatic, monumental buildings are finding favour as part of Britain's skyline while also being increasingly threatened with demolition. Elain Harwood spent her holidays for a year travelling by train and bicycle seeking out surviving examples,' the publishers write.
Tunnel of Light
Gendaikikakushitsu Publishers
This Japanese and English bilingual edition is written by Chinese architecture practice MAD's founder Ma Yansong, including essays by Fram Kitagawa and Fang Zhenning. Inspired by the namesake artwork created by the architect for the 8th Echigo-Tsumari Art Triennial last summer in Japan, the publication draws upon the eastern elemental philosophy of nature to talk about the project and connect it with MAD's wider practice through a range of carefully curated imagery, manuscripts, renderings and drawings. A version of the time was also released in mandarin in China at the same time.
Caruso St John, Collected Works: Volume 1 1990-2005
MACK
Believe it or not, this tome is the very first, comprehensive monograph of celebrated British architecture studio Caruso St John. Titled 'Collected Works: Volume 1', the book focused on the practice's earlier years, from 1990 to 2005, offering detailed project presentations, new and archival essays, and a range of the studio's rich references that span from architecture to art and design. This edition is the first of three publications that set out to explore the London studio's rigorous work to-date. There are words by practice founders, Adam Caruso and Peter St John, contributing copy by Wim Wenders, Irénée Scalbert, Vicky Richardson, and more, while the projects included feature some of the practice's top hits, such as Nottingham Contemporary, The New Art Gallery Walsall, and the Brick House.
Woods + Dangaran: Architecture and Interiors
Rizzoli
Architects Brett Woods and Joseph Dangaran's work blends the teachings of 20th century modernism with the finest of contemporary architecture living and design, resulting in captivating, both visually striking and highly functional buildings. This publication, the Los Angeles based practice's first monograph, examines the duo's body of work through mesmerising photography and clever text. From the restoration of midcentury classics, such as Craig Ellwood's 1965 Moore House, to new builds, such as their more recent Desert Palisades home design, the book takes the reader on a journey through some of California's finest. The tome includes an introduction by notable journalist and author Michael Webb.
Monumental Lies: Culture Wars and the Truth about the Past
Verso
Award-winning journalist, heritage consultant, and architecture critic for the Evening Standard Robert Bevan takes a deep dive into 'how statues, heritage and cities have become the battleground for the culture wars,' in this new book by Verso. All these monuments - be it sculpture and art, buildings or whole parts of cities - are physical evidence of our history and offer traces of our past and ways of thinking. They are, today, Bevan argues, 'weaponised in culture wars.' 'This close reading of the city is a potent response to the culture wars because it deals in precisely the historical honesty that culture warriors have no stomach for. Righteous but always nuanced, Bevan is the perfect guide to the way urban iconography distorts history and entrenches power,' wrote Justin McGuirk, senior curator at the Design Museum, about it.
Architecture Unbound - A Century of the Disruptive Avant-Garde
Rizzoli
In this latest publication by Rizzoli, renowned architecture critic Joseph Giovannini takes the reader on a journey across the cutting edge in architecture. From specific projects and case studies, to whole manifestos, this book explores 'a century of the avant-garde to transgressive and progressive art movements that roiled Europe before and after World War I, and to the social unrest and cultural disruption of the 1960s.' Historical influences and cross-disciplinary events are examined, in order to determine how some of the most exciting building design was born. 'With strategies of explosion, collision, and fragmentation, architects were introducing forces that dislocated architecture's system of thought and construction predicated on gravity.
Architects produced fresh astonishments, some fantastical. The buildings worked, and they worked well, but perhaps their highest and best function was to fascinate,' Giovannini writes.
Henry Kulka
Giles Reid & Mary Gaudin
The story of Henry Kulka unfolds in the 1930s and 1940s, when a global diaspora of architectural talent spread out from Europe across the world, taking with it the ethos and aspirations of socially motivated modernism. While the impact of these architectural émigrés on the culture of the UK and the USA is well documented, many went further afield and are far less familiar. A new monograph is the go-to architecture book for Kulka's journey.
Share: Conversations about Contemporary Architecture – The Nordic Countries
Artifice
Nordic architecture, as well as a spirit of sharing and candid creative exchanges sit at the heart of a new book by Artifice. Share: Conversations about Contemporary Architecture – The Nordic Countries, was co-authored by Canada-born Norway-based architect Todd Saunders, and architecture and design writer, and Wallpaper* editor Jonathan Bell. The book, which hails the first in what the team says will become a series of publications, each focusing on a specific territory and featuring Saunders in conversation with some of each region's most celebrated architects, is out this month.
The Low-Impact Home
Remodelista
This collection of domestic interiors showcases ways the contemporary home can be stylish and practical, while remaining sensitive to the environment. Margot Guralnick and Fan Winston offer guidance and examples of how to compose interiors that are gentle on the planet and do not compromise on aesthetics or contemporary design flair. There are even room-by-room tips on reducing your environmental footprint.
Building Blocks
Rizzoli
A balanced, contemporary Upper West Side apartment designed by Messana O'Rorke (MO'R) is one of the several projects by the New York architecture firm featured in a new Rizzoli monograph entitled Building Blocks, and out this month. The space, conceived especially for luxury skincare and fragrance brand Malin + Goetz founders Matthew Malin and Andrew Goetz, blends the practice's knack for modern minimalist architecture, New York history, and its owners' distinctive aesthetic and needs and the resulting apartment interior blends past and present, simplicity and refined decor. The apartment is located in an existing block of flats, which MO'R meticulously redesigned. Past and present meet in a new floor in a reclaimed oak herringbone pattern, restored plaster relief moulding, and preserved original windows, creating links between this fresh take and the building's heritage. Meanwhile, modernist furniture finds alongside new, bespoke pieces, such as sleek, built-in storage, highlight the owners' contemporary identity.
All Together Now
RIBA Books
This fascinating book, authored by design journalist Amy Frearson and interior designer Naomi Cleaver, captures a moment in one of the largest ongoing trends in architecture and property - the use of shared space. The tome uses a range of case studies to discuss how shared workspace and residential areas bring a new take on collective living for people of all ages. 'Co-living and co-working offer very real solutions to many of the problems we face today, both as individuals and as a society. Sharing doesn't have to mean compromise; it can help us live more efficiently, healthily and sustainably, without limiting our choices and comforts,' said Frearson. Examples include from new-builds to conversions, and from a Dutch nursing home that doubles as a student residence, to a retreat for digital nomads in Bali. Pictured here, Angel Gardens in Manchester by Naomi Cleaver.
100 20th Century Houses
Batsford and Twentieth Century Society
This new book celebrates Britain's fascinating architectural heritage. Looking at 100 examples of modernist homes, it features the work of seminal architects, such as Giles Gilbert Scott, Walter Gropius, Edwin Lutyens, Powell and Moya and David Chipperfield. Each entry brings a different story to the mix, accompanied by an essay by an expert architectural critic or design historian, including Gavin Stamp, Elain Harwood, Barnabas Calder, Alan Powers and Gillian Darley. '100 20th-Century Houses is a fascinating insight into Britain's built heritage and the exciting and ground-breaking housing styles of the twentieth century,' writes the team behind it.
The Notebooks and Drawings of Louis I. Kahn
Yale Center +or British Art, in association with Yale University Press
Originally created by Richard Saul Wurman, along with printer Eugene Feldman, and first issued by Falcon Press in 1962, The Notebooks and Drawings of Louis I. Kahn is now being released by Yale Center +or British Art, in association with Yale University Press as a facsimile edition along with a reader's guide.The latter helps explain and dig deeper into the genious of Louis Khan and the expert architect's thought process and drawing skill. The book also includes writings 'by a variety of critics and colleagues as well as Kahn's personal recollections and unpublished speeches,' the publishers explain.
London Feeds Itself
Open City
London's emergence as a global foodie hub is near miraculous. The city was once considered a gastro black spot, the butt of sniffy jokes about soggy chips and sinking pie crusts. After a three-decade turnaround, swishy new dining rooms with credentialed chefs open every week, the streets of Mayfair are littered with Michelin stars and everywhere there is experimental fusion, three-hour tasting menus and pub grub refined beyond recognition. London has, though, a kind of shadow, slow-cooked and more quotidian food culture. More low-key and affordable but just as inventive, this is a constantly shifting vernacular, the riches of the city's remarkable human diversity. This food culture is mapped and celebrated in London Feeds Itself, an architecture book published to mark the 30th anniversary of the city's Open House Festival this September, an event that has now been significantly scaled back following the death of the Queen. London Feeds Itself is edited by Jonathan Nunn, the 33-year-old founder of the online magazine and weekly newsletter Vittles. Nunn's newsletter and Instagram feed track his intake at food stalls and unassuming takeaways, at Algerian bakeries and Syrian cafés in the near suburbs (and the occasional ham, egg and crisp baguette). Soho and Mayfair are left largely untouched, but Nunn has become a trusted guide for young Londoners looking to get at the real marrow of their city.
Shigeru Ban: Timber in Architecture
Rizzoli
The Japanese master of innovation and sustainable architecture, Toyko based Shigeru Ban has pioneered working with timber, and this book celebrates just that. Employing wood and bamboo in his designs, materials with proven positive effect in health and wellness, both physical and emotional, Ban is behind projects such as the headquarters of Swatch and Omega, as well as the Aspen Museum, the Pompidou Metz, the Mount Fuji World Heritage Center, and La Seine Musicale Performance Hall in Paris. This lavish publication studies them all, delving deeper into the art of designing and building with timber, from private projects to emergency shelters and anything in between.
Queer Spaces: An Atlas of LGBTQIA+ Places and Stories
RIBA
Belsize Park, in north London, exudes a genteel conformity. The neighbourhood's leafy streets are lined with archetypal Victorian houses, fronted with stucco and pale brick, and offset from the pavement to accommodate well-manicured front gardens. Adam Nathaniel Furman's home is set on one of these streets, occupying a characteristically handsome coach house. But on the other side of the front door, it quickly becomes clear that this is far from the typical Belsize Park abode. The arched doorway to the studio opens to reveal a riot of colour and clutter. The walls are lilac and mint green, the gabled ceiling is baby blue and pale pink, and there are accents of bright yellow throughout – colours that clash on paper but somehow come together as a cohesive, exuberant whole. The space is replete with Furman's design output: rugs that evoke the ornamental traditions and summer light of the Mediterranean, a table with a flamboyant radial pattern, lamps with fluted porcelain bodies reminiscent of Roman columns, painted plywood chairs whose forms approximate intimate body parts. We see ceramics, cushions and prints galore. There's also a formidable collection of books, which helps explain Furman's broad intellect – they can delve into topics ranging from Susan Sontag and Star Trek with ease. The space points to Furman's deep entanglement with architectural history, an affinity for wide-ranging cultural references (they are of Argentine and Japanese descent, and grew up in London), as well as their fierce determination to centre queerness in their architecture, design and art. This is a confidently queer space, one that could have justifiably featured in their new book, Queer Spaces: An Atlas of LGBTQIA+ Places & Stories, co-edited with architectural historian Joshua Mardell. Though for reasons of modesty and timing, the studio hasn't made the cut. The August 2022 issue of Wallpaper* is its first appearance in any publication. Pictured here, queer spaces featuerd in Furman and Mardell's book include 'Dracula's Den' in Chiba, Japan, designed by Osamu Ishiyama.
Beyond the Canyon
Monacelli
This impressive tome is a visual feast looking 'inside epic California homes.' English-born, Laurel Canyon-based photographer Roger Davies, the lens behind our mesmerising story on John Lautner's legendary Garcia House, presents here his extensive selection of residences photographed in the Golden State. From modernist jewels to contemporary homes and Spanish revival abodes, this book transports you to the sunny shores and hills of Los Angeles and beyond. There's even a foreword by none other than Drew Barrymore. Pictured here, the swimming pool at Michael S. Smith's Ichpa Mayapan.
Place and Space
Artifice Press
For nearly 20 years, the Californian architecture firm Montalba Architects has amassed a portfolio of discerning clients with its clean and considered approach to building and space. Founded by the Swiss-American architect David Montalba and based in Santa Monica in Los Angeles, the practice is probably best known for designing the Nobu Ryokan in Malibu, The Row boutique in West Hollywood, Los Angeles, as well as the Vertical Courtyard House in Santa Monica, completed in 2020, which has been lauded with accolades. With offices in Lausanne and Los Angeles, the international firm has developed a distinctive design style with universal appeal. Its achievements have now been chronicled in a conceptual tome, titled 'Place and Space' and published by Artifice Press, that explores the duality of the firm's magnetism. Through combining the radical experimentation that arose in California during the 1970s and 1980s with the calm precision of Swiss practice, Montalba's motto of repeatedly paring things down and reducing stylistic elements to their fundamental essence is an inspiring thread through all of the firm's projects. Pictured here, Montalba's The Row Melrose.
Botanical Buildings
Lannoo Publishers
Author Judith Baehner explores the world of sustainable architecture and in particular greenery within buildings all over the world with this new publication on how nature can coexist with architecture. 'It's impossible to imagine the world we live and work in without nature and a nature-inclusive lifestyle. That thought, and my daily work as a plant architect, led me to write a book about plants and architecture. It's the book with the working title "When plants meet buildings". What does a world in which plants and architecture come together look like?' she says. Pictured, Casa De Fim De Semana.
50U
Volume / Archis
The first 50 years in the architecture, design and wider culture of the United Arab Emirates history are the subject of this expansive tome that celebrates the country's golden jubilee. 'In 50 years, the city has transformed from desert to high-rise buildings that pierce the clouds. We have gone from a handful of nationalities to over 250 nationalities. We have jumped from the industrial stage in growth to sector diversification, nuclear power for sustainable solutions, and selling start-ups to big companies. There is almost a story in every sector and industry to tell of the past 50 years,' says book contributor Salem Ghanem Al-Marri. The book also includes an extensive photo essay of artist and photographer Charlie Koolhaas and it's been beautifully designed by Irma Boom Office.
House London
The Quarto Group
London's rich and diverse housing stock is enduring and resilient. From Georgian through to Victorian, Edwardian, and 20th century, the capital and its suburbs are home to an array of familiar typologies that have survived bombs and bulldozers, as well as endless shifts in the way we use our homes. Now, a new book, House London, takes the reader on a journey across all this potential, celebrating the humble, omnipresent, and ever-evolving historical brick home typology. This evolution is where architects come in. Town houses and apartments exist within an endless, roaming cycle of regeneration and refurbishment as economics and demographics change, offering designers and their clients a chance of infinite variety and experimentation within some relatively tight parameters. Ellie Stathaki, Wallpaper's very own architecture editor, has plenty of experience seeking out the capital's best new architecture. In this new monograph, she's joined by her sister Anna, an accomplished architectural photographer. Pictured here, Elsley Road By Al Jawad Pike.
Reinventing Cultural Architecture
Rizzoli
Huang Wenjing and Li Hu came of age as architects in New York, after they graduated from Beijing's Tsinghua University in the 1990s. It was there – while Li was at Steven Holl Architects and Huang at Pei Cobb Freed & Partners – that they had the idea of starting their own practice. Having gained more experience and a clearer understanding of architecture, the pair eventually opened their Beijing office, Open Architecture, in 2008, the year of the Beijing Summer Olympics, on one of the capital's distinctive hutongs; their office is still there today. The name Open Architecture was inspired by the type of open-source computer hardware or software that allows a simple, free and customisable interchange of components. One of the pair's earlier projects, Beehive Dorm, a 2009 modular building system made from prefabricated steel-framed hexagonal cells, could be seen as a direct architectural realisation of this principle. The new book on the studio, written by regular wallpaper* contributor Catherine Shaw, is now out, telling the studio's story and more. Pictured here, Open Architecture's Huang Wenjing (left), with a model of the Sun Tower, currently under construction in Yantai. Right, co-founding partner Li Hu, holding a model of the studio's 2021 Chapel of Sound. Additional writing: Yoko Choy.
Bauhaus Graphic Novel
Prestel
If you want to explore the Bauhaus movement in a different way, this graphic novel might be just the thing for you. Created by Valentine Grande and illustrated by Sergio Varbella, the book offers a unique take on both its subject and book typology - in that its main character is not a person but an idea. Following the story of the Bauhaus school, from its roots and beyond, through crucial moments within the movement's history through principal figures such as Klee, Kandinsky, Albers,
and Mies van der Rohe. The texts are accompanied by bold, captivating visuals.
Raw Concrete: The Beauty of Brutalism
Penguin
Architectural historian Barbanas Calder has created a guide to concrete architecture through eight key strucutres - some of 'Britain's most controversial buildings.' These include: Hermit's Castle (Achmelvich, Scotland), Barbican Centre (London), Newbery Tower (now demolished: Glasgow,
Scotland), New Court, Christ's College (Cambridge), Trellick Tower (London), University of Leicester (Leicester), and National Theatre (London). The book is wide reanging and offers an in depth look into its subjects, sure to produce thought provoking conversations.
Modern Forms: An Expanded Subjective Atlas of 20th Century Architecture
Prestel
Award winning photographer Nicolas Grospierre's book on modernist architecture is a feast for the eyes. And now the tome has been thoroughly refreshed to include sites beyond Europe and North America, exploring little known examples of modernism in Southeast Asia, Australia, Africa and South America. This is an evolving labour of love that captures pieces of architectural history across the globe. Pictured here, the Swiss Medical Research Foundation, Geneva, Switzerland.
John Outram
Liverpool University Press
Architect John Outram has made a clear mark in British architecture history, and beyond, with his colourful, imaginative, post-modernist creations. Having set up his studio 1974, Outram has been known for works such as The New House at Wadhurst, the Isle of Dogs Pumping Station and the Judge Institute. This new book looks into his rich legacy, approach and architectural universe, digging deep into the architect's body of work. It is authored by Geraint Franklin, an architectural historian with Historic England.
American Framing
University of Illinois Chicago
The US participation in the 2021 National Pavilions line-up at the Venice Architecture Biennale is titled 'American Framing', and in a way, it does what it says on the tin. A large site-specific installation makes a comment on the architecture of wood framing – the most common construction system in the US. At the same time, the displays, curated by Paul Andersen and Paul Preissner, both University of Illinois Chicago professors and practising architects, delve deep into this American contribution to global architecture through furniture, building models, photography and more. All this is now addressed also in a new publication that talks through the themes explored in the show.
36 pictures from the National Museum
Ljå Forlag
Ahead of the opening of the new National Museum in Oslo this summer, photographer and regular Wallpaper* contributor Ivar Kvaal is publishing a book focusing on the architecture project's building work. Containing, as its title suggests, 36 beautifully composed stills from the construction site, the publication also features an essay, by the architect of the museum, Klaus Schuwerk. 'Museums are commonly thought of as noble and ancient institutions with their origins found far back in history. Nothing could be further from the truth. The public museum has existed for little more than 200 years. In comparison to the origins of architecture, which date back more than 6000 years, museums are a novelty,' he writes
Santa Fe Modern: Contemporary Design in the High Desert
Monacelli
This new tome by Monacelli celebrates 'Santa Fe's dramatic mountain landscape, endless views, clear light, pueblo-style adobe architecture, and vibrant history of indigenous cultures.' Written by author Helen Thompson, the book looks at the series of modern designs that, along with its beautifully arid surrounds, define the landscapes of Santa Fe. The striking works within include the Santa Fe Residence by Studio DuBois pictured here, created in 2005 for contemporary art collectors Jeanne and Mickey Klein.
Five Decades Of India's Built Environment
CPKA Foundation for Design Excellence
'India has been historically known for its repertoire in architecture and design,' say this book's authors Dikshu C. Kukreja and Arunima Kukreja. 'Post-Independence, the country struggled to come to its feet in terms of policies, economic direction and infrastructural development. Nonetheless, the country has witnessed tremendous transformation in its built environment in the past five decades.' This new publication celebrates the variety, richness and layers of architecture and the urban space in India, spanning time periods and styles.
Golden Lane: An Urban Village
Batsford Books
Stefi Orazi has become the unofficial chronicler of London's housing heyday. Her 2015 architecture book Modernist Estates tapped into the revival of interest in the high-quality local authority buildings of modernist architecture that sprouted across the capital in the post-war building boom. She followed it up with a monograph on The Barbican Estate, that rare and enduring example of an expansive private housing development lovingly deployed with a pure modernist ethos. Orazi, a long-time Barbican resident, has now turned her pen to its near neighbour, the Golden Lane Estate. Whereas the Barbican (built between 1965 and 1976, with other elements of the site not fully completed until 1982) was a complex, intricate project, with up to 140 different apartment types, Golden Lane was its forerunner. Designed by the same firm, Chamberlin, Powell & Bon, it had a very different remit. Orazi, who has spent a decade as a resident, notes that although Golden Lane Estate was designed for workers, not professionals, it was not so different from the Barbican in terms of ethos, character, and attention to detail.
Green Obsession
Actar
Known for his explorations in green building and sustainable architecture, Italian architect Stefano Boeri is the author behind eco-aware projects, such as the Bosco Verticale in Milan and Easyhome Huanggang Vertical Forest City Complex in Huanggang. Now, Boeri is launching a new tome taking us through his 'obsession' on all things green, and his strive towards an architecture that reflects that. The book is organised in five broad chapters, taking the reader from the wider environmental concerns of our times, to the effects of the Anthropocene age, urban frameworks for our cities, the role of trees and thoughts about the future. A number of contributions from prominent academics in their field enrich Boeri's take.
The Council House
Hoxton Mini Press
Survey London's contemporary streetscape, and the more pessimistically minded might conclude that good-quality social housing has had its day. Instead, the capital is now riddled with countless new-build private apartment blocks, with the much-vaunted 'affordability' quota and council houses often relegated down dark side alleys or on another site altogether, if they are even built at all. Space is at a premium, with 'micro apartments' suggested as a way of upping the amount of available housing. The irony is that Britain used to build some of the best and most generous social housing in the world, strongly influenced by European modernist design. By the 1960s, all council housing was governed by a set of official space standards that most modern developers would baulk at. Writer and photographer Jack Young's new architecture book The Council House brings together portraits of 68 of the capital's most celebrated council house schemes, from high to low rise, scattered across London from north to south. Pictured above, the Spa Green Estate, EC1V, 1946-49, Tecton Group.
Iconicon: A Journey Around the Landmark Buildings of Contemporary Britain
Faber
Authored by architecture writer John Grindrod, this new publication, out this spring, takes the reader through a jounrey across some of Britain's most recognisable contemporary buildings. Launched to critical acclaim, the publication has already received praise from critics and writers in the field, such as Owen Hatherley and Tom Dyckhoff. From millennium monuments to riverside flats, and from hipster pop ups to towering skyscrapers, this book has everything; and more.
Form Follows Feeling
New York architect Suchi Reddy launches her new book on occasion of her Plym Distinguished Visiting Professorship at the University of Illinois at Urbana-Champaign, School of Architecture. The celebration tome spans works by Reddy's firm Reddymade and student work from the studio the architect co-taught with professor Kevin Erickson. Essay contributions include words by architects, writers and curators, such as Alberto Pérez-Gómez, Beatrice Galilee, Isolde Brielmaier, LionHeart, Susan Magsamen, and Michael Spicher.
China Dialogues
ORO Editions, Tongji University Press
Created by architecture critic and author Vladimir Belogolovsky and famous architecture photographer Iwan Baan, this book focusaes on 'readth, depth, and transparency of presenting Chinese architects' most original buildings and how they came about.' Pictured here, JAM bird's-eye view is among the many case studies explored. "With refreshing query, engaging themes, and deep insights, Vladimir Belogolovsky's Dialogues with China's cutting-edge architects investigate and illustrate a vivid scene of contemporary Chinese architecture," says Xiangning Li, Dean and Professor, Tongji University in Shanghai
How Beautiful Are Your Dwelling Places, Jacob
Park Books
The new Babyn Yar Synagogue in Ukraine, designed by Switzerland-based architect Manuel Herz and part of the Babyn Yar Holocaust Memorial Foundation initiative, is an innovative and powerful building that not only serves as a temple, helping to re-establish the current, local Jewish community, but also acts as a reminder of the site's history. Herz drew on both elements for his design and created a striking, moveable structure that references the notion of a book – a central feature in the Jewish religious service. This new book edition, produced by the The Babyn Yar Holocaust Memorial Center, marks the 80th anniversary of Babyn Yar and tells the story of the building through texts (including by Herz)
SkyRoom
Written by Larry Gaudet, this new publication explores the journey of Brian and Marilyn MacKay-Lyons at Shobac, 'a seaside village on the edge of architectural and utopian possibility.' The farm, Shobac, around an hour's drive south-west along the coast from Halifax, is where the architect, Brian, and his family have famously created an extraordinary micro-village of buildings. It is, as the architect puts it, a model shop for exploring themes and interests. The compound includes ruins of ancient shelters uncovered as MacKay-Lyons reinstated the farmland over many years, alongside restored buildings, such as a 1750s farmhouse and an 1830s schoolhouse.
Serious Fun The Landscapes of Claude Cormier
ORO Editions
This is an architecture book dedicated to Canadian designer Claude Cormier's landscape work. Going through the landscape professional's extensive, some 30-year-long career, the publication investigates anything from parks to squares, historical landscapes and industrial sites. Humour is a key component in each design, the studio and its leader explain - as the title of the luxurious tome hints, 'Serious Fun'. The project is authored by historian and academic in the field of architecture landscape Marc Treib, and landscape architect Susan Herrington, under the guidance of the Montreal-based landscape architecture firm Claude Cormier et Associés. Pictured here, the project 18 Shades of Gay in Montreal.
Yves Saint Laurent Museum Marrakech
Phaidon
Architecture publishing heavyweights Phaidon are releasing this month a visual feast telling the story around Studio KO's Yves Saint Laurent Museum Marrakech. The work, by the Paris- and Marrakech-based studio founded in 2000 by Karl Fournier and Olivier Marty, has been a landmark in both the iconic fashion designer's legacy and the Marrakech architectural landscape; and this architecture book 'chronicles the unique collaboration between Saint Laurent's partner, Pierre Bergé, and architecture firm Studio KO, taking readers behind the scenes on a creative journey at the intersection of architecture, design, and fashion.' Opening in 2017, the building is a some-4,000 sq m hub for permanent and temporary shows and cultural life. 'Marrakech taught me colour,' Saint Laurent once said/ 'Before Marrakech, everything was black.'
House to Home
Roost Books
In this new architecture book, author Devi Dutta-Choudhury guides us through the process of designing and remodelling a house, making it a real 'home'. The Bay area architect in fact draws on her own experience of creating a base for herself and her family, recounting all sides of the process in order to offer insight and practical advice to the reader. The publication, out now by Roost Books, is written simply and beautifully and presented in a design that reflects the same approach. Illustrations by Jaqueline Alacantara, as well as charts, diagrams and lists help make for a lively and enjoyable read.
Building Society
West Country Modern
Creative director Jethro Marshall has launched a new book project, Building Society, 'an unapologetic visual eulogy to the English bungalow,' he explains. The book is a feast of beautiful photography of the humble housing typology and also includes an essay tracing the history of bungalows by Jan Carlos Kucharek, as well as a poem by Helen Angell.
Built to Inspire
Images Publishing
Architectural writer and critic Philip Jodidio contemplates on what makes the perfect home in this ambitious tome which looks at a slew of case studies of some of the more impressive houses from across the globe. The book trawls through Europe, the United States, United Kingdom, Australia, South and Central America, India, and Asia to present works by acclaimed architects such as Zaha Hadid, Shigeru Ban and Annabelle Selldorf. Pictured here, Zaha Hadid Architects' Capital Hill house.
Flourish: Design Paradigms for Our Planetary Emergency
Triarchy Press
Co-authors Sarah Ichioka and Michael Pawlyn contemplate on our current environmental crisis to launch a call for action. This publication 'is a practical digest for urbanists, built environment professionals and environment activists who want their contributions to the world to have lasting, positive impact,' they explain. Pictured here, Cheonggyecheon after restoration.
MAD rhapsody
Rizzoli
MAD founder Ma Yansong's work draws on Antoni Gaudí and Eero Saarinen, and 'tempered them with a sensitivity to both Chinese and Western urbanism and the Chinese vernacular, added a dollop of pure fantasy and perhaps a bit of science fiction, and come up with a series of architectural statements that, if nothing else, seem entirely of the twenty-first century: technologically adventuresome, flamboyant, bold and monumental in scale, yet with surprising and endearing elements of intimacy,' writes critic Paul Goldberger. This tome celebrates the Chinese practice through a visual feast across some 23 projects from 2004 till today. Pictured here, MAD's Cloudscape of Haikou.
Postmodern London Map
Blue Crow Media
The latest in Blue Crow Media's architecture guides, this map captures London's postmodernist architecture. Written by Owen Hopkins with photography by Nigel Green, the publication features over fifty selected buildings. 'The map shines new light on some of east London's former industrial areas such as the Docklands and Canary Wharf where Postmodern architecture brought new character and identity,' say the publishers.
Jaragua Won't Crumble
This new book explores a forgotten modernist icon in the Caribbean - the Jaragua Hotel, built in 1942 in the Dominican Republic. The publication was composed by architect Alex Martínez Suárez and design editor Rab Messina. 'The Dominican Republic's role in the spread of modernism in the Antilles has been widely ignored by both practicing architects and academic researchers,' says Martinez Suárez. 'At the time, the Jaragua Hotel was one of the most photographed and globally disseminated buildings hailing from this region… and yet the fact that we live in a country that only values its colonial-era architectural heritage basically erased it from our collective history.' Messina adds: 'In fact, many Millennials have no idea that the Jaragua Hotel by the Caribbean Sea is not the original one. We're talking about two generations born after 1985 that ignore the diverse wealth of our architectural heritage, since Santo Domingo's accelerated and indiscriminate vertical growth has turned the city into a mass grave for modernist works.'
Immersed: The California Houses of Feldman Architecture
Oscar Riera Ojeda
This book is a feast of residential architecture, digging deep into the portfolio of Californian practice Feldman Architecture to bring to the fore a rich selection of the practice's bespoke homes. Including an introduction by Aaron Betsky, the publication is divided into sections around context, such as suburban and rural. The homes span scales and materials, offering an immersive exploration of the residential typology in California.
Peter Marino: The Architecture of Chanel
Phaidon
'Chanel invented the modern woman—vibrant, forward-looking, stylish. It's that spirit that [the] store captures, while articulating what it is that makes Chanel uniquely Chanel,' has said architect Peter Marino, as explored in this extensive tome by Phaidon on the fashion brand's architecture. The visually rich book includes an introduction by Pilar Viladas and contributions by Felix Burrichter and Sam Lubell, while celebrating Peter Marino's 25-year-long collaboration with Chanel.
Isabelle Stanislas: Designing Spaces, Drawing Emotions
Rizzoli
Paris-based architect and interior designer Isabelle Stanislas has launched a monograph of her work - a beautifully crafted tome, including elegant photography and a wealth of projects from the creative's long portfolio. The works span from private homes to commissions for luxury fashion brands such as Cartier and Hermès, all of which Stanislas has completed in her refined style which bridges the subtle grandeur of historical architecture with an unmistakably contemporary aesthetic.
OMA: Search Term
Rizzoli
'This book is an index of twenty-three works by OMA New York - built, lost, and in progress,' say OMA NY partners Shohei Shigematsu and Jason Long. 'Over the last thirteen years, our identity has materialized through our growth as a satellite office within the unique circumstance of OMA's lineage. We went from working on one institutional project in New York to thirty projects ongoing simultaneously across diverse scales and typologies—masterplans, parks, towers, museums, exhibitions, and more.... We started as a small office of five and grew to a full-fledged operation of eighty. We reached a point where it made sense to ask: What is OMA New York?' Exploring the DNA of OMA's NY outpost, its body of work, past, present and future, the publication is now out by Rizzoli, edited by Sophia Choi and designed by Studio Lin.
Now You Know
Sound Advice
Sound Advice, the architecture platform that instigates and fosters dialogues in the industry around issues of racial inequality, diversity and inclusion has published Now You Know, a special tome that explores the above topics in the written form. The publication includes a range of essays and interviews by sixty architects and urbanists of colour, edited by Sound Advice co-founders Joseph Henry and Pooja Agrawal. Thought provoking and powerful, the book aims to increase awareness about the existing diversity issues in the architecture field - and beyond.
Mid Century Britain, Modern Architecture 1938–1963
Pavilion Books
For all the attention that the mid-century period gets in art, design, and architecture, the British architectural landscape of the forties, fifties, and early sixties is only just getting its due. This isn't for lack of material; the post-war period saw huge investment in the built environment, particularly in social housing and infrastructure. So why the belated recognition? Elain Harwood's new book 'Mid Century Britain', published in collaboration with the Twentieth Century Society, looks at the period 1938 to 1963, during which the modernist zeal for renewal and change was suddenly pushed to the forefront by the ravages of war and the birth of the welfare state. Harwood is an engaging and hugely knowledgeable guide, who along with other Society members has done huge amount to change the perception and preservation of this architectural era. The book includes churches, department stores, housing estates and more, showcasing the quiet innovation, generous spaces, and commitment to equality that is so desperately needed once again. Writer: Jonathan Bell
Neri&Hu Design and Research Office: Thresholds: Space, Time and Practice
Thames & Hudson
The Chinese practice's second monograph, Neri&Hu Design and Research Office: Thresholds: Space, Time and Practice, is a suitably extensive survey of Neri & Hu's work. The publication runs through a selection of over 30 of the practice's most recent projects, spanning works in the cultural, leisure, public and private domains. Works are divided in six main chapters: Reflective Nostalgia, Nomadic Voyeurism, Dwelling, Inhabitable Strata, Recasting Vernacular, and Future Artefact, spanning both pragmatic and conceptual concerns and illustrating each scheme with a range of media. Pictured here, the studio's Suzhou Chapel in Suzhou Shi.
The Empty Room: Fragmented Thoughts on Space
RZLBD
Tehran-born, Toronto-based architect Reza Aliabadi leads a dynamic practice with engaging work in a variety of fields - from private houses to conceptual work, but also art and words. All this and more are explored in the studio's latest publication, an in-depth dive into Aliabadi's thought process and output. The book is available through the practice's own store, RZLBD Shop, 'an archive and web store hosting self published print work produced in the atelier over the past decade.'
Atlas: Tadao Ando
Prestel
When former journalist, filmmaker and photographer Philippe Séclier visited the studio of Tadao Ando in 2012, he was captivated by the journey through the renowned Japanese architect's buildings and the way the light travels through them. His fascination resulted in a nine year project and a series of photographs of some 130 buildings. This book presents the fruits of his labour, showing the works in a loosely chronological order, inviting the reader to explore Ando's oeuvre through Séclier's unique perspective and skillful lens.
Voices (Towards Other Institutions)
les presses du réel
A publication linked to the project Open, by the 2021 Russian Federation Pavilion, this book - Voices (Towards Other Institutions) - has been masterminded by architect Ippolito Pestellini Laparelli and Erica Petrillo. 'This book gathers twenty-eight texts released weekly between May 2020 and May 2021 on pavilionrus.com by an interdisciplinary cohort of practitioners and thinkers, from Russia and beyond, putting forward new ways of thinking and acting within institutions,' the team explains. If you've missed the 2021 Venice Architecture Biennale, this book will help you get a taster.
Bjarne Mastenbroek. Dig it! Building Bound to the Ground
Taschen
'Mankind destroys the skin of the earth at an unprecedented scale. The time has come for a fundamental reset,' says this book's author, Dutch architect Bjarne Mastenbroek. With this publication, the founder of dynamic architecture pratice SeARCH acknowledges the field's need, and efforts, to reconnect with nature and the earth. Using examples such as African churches chiseled from rock, Chinese villages dug into terrains, outgrown Parisian housing and a villa built into the cliffs of Capri, Mastenbroek helps us delve into past practices in effort to imagine a better future of sustainable architecture.
Works: Mim Design
Untitled Press
One of Australia's leading interiors architecture firms, Mim Design has just announced its first monograph, showcasing projects from 2000 — 2021. With it, the Melbourne based studio, which was founded by Miriam Fanning, celebrates 21 years of practice and invites the reader on a journey across a carefully selected handful of key works. 13 project unfold, spanning private and multi residential, retail, hospitality, and commercial typologies, while the publication also includes a foreword by design author Karen McCartney.
The Complete Kengo Kuma
Taschen
Kengo Kuma's mastery of architecture unfolds in its full glory in this new monography by Taschen. The book explores the Japanese architect's works from the 20th and 21st century, through some 500 illustrations (photographs, sketches, and plans). Including both completed and ongoing projects, the 'XXL' tome also comes as a limited edition 'Art Edition', featuring a custom-built wooden slipcase and accompanied by a lithographic print of a sketch by Kengo Kuma, signed by the architect himself. Pictured above, the Daiwa Ubiquitous Computing Research Building, University of Tokyo, Hongo Campus, Tokyo, (2014).
Nicolas Schuybroek: Selected Works
Hatje Cantz
A hefty new tome by publisher Hatje Cantz explores the work of Belgian architect Nicolas Schuybroek. Out in October 2021, the book is the very first monograph of the dynamic architect who already has a wealth of elegant built projects under his belt. Including schemes like the boutique private JJM House outside Brussels, and flooded with striking imagery, this publication is a feast for the eyes. Pictured here, O House.
Master of the Midcentury: The Architecture of William F. Cody
Monacelli
William F. Cody (1916–1978) is one of the most iconic Palm Springs architects. Cody came to Palm Springs in 1945 in search of fame and architectural fortune. He had been lured by the formidable Nellie Coffman – 'The Mother of Palm Springs' – to extend the Desert Inn, the sanatorium she founded in 1909 and which evolved throughout the century. Cody was just 29, a recent graduate from the College of Architecture and Fine Arts at the University of Southern California (alumni of the era included Paul Revere Williams, Pierre Koenig and William Krisel). He became one of the most recognisable architects in the region. This new book is the first comprehensive retrospective about the key modernist architect's life and work, published by Monacelli. Pictured here, the proposed Mountain Terminal of Tramway, drawing by William Cody.
Erik Dhont's Gardens – the Beauty of the Unpredictable
Hatje Cantz Verlag
Landscape architect Erik Dhont has released a collection of projects from his lush portfolio together with publisher Hatje Cantz Verlag. Exploring a variety of projects, from gardens in private homes, to commercial and public spaces, the book transports readers all around the world, from an avenue of camellias in Walloon Brabant to evergreen oaks in California. Seven thematic chapters by art historian Suzanne Krizenecky help organise Dhont's work in 'creating frames' through which nature can take over and play the protagonistic role.