Copenhagen Fashion Week S/S 2024: everything you need to know
Scarlett Conlon reports from Copenhagen Fashion Week S/S 2024 as OpéraSPORT, Nicklas Skovgaard, Sunflower, Stine Goya, Saks Potts, Ganni and more show in the Danish capital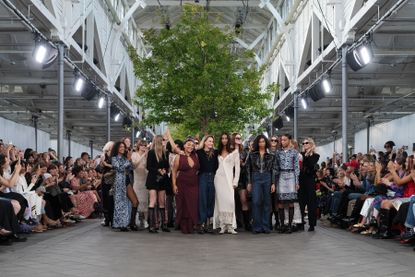 (Image credit: Courtesy of Ganni)
Wallpaper* Newsletter
Receive our daily digest of inspiration, escapism and design stories from around the world direct to your inbox
Thank you for signing up to Wallpaper. You will receive a verification email shortly.
There was a problem. Please refresh the page and try again.
Copenhagen Fashion Week's summer edition is famed for its balmy catwalks and hazy-day runways. Not so this week, as sideways winds played tug-of-war with the umbrella-lined front row. Rain did not stop play, however, as the capital's busiest show schedule to date pressed on despite the meteorological challenges.
Performance proved popular: Ervin Latimer presented his eponymous show as his drag alter ego Anna Konda, Nicklas Skovgaard made his debut with artist Britt Liberg performing a one-woman show, and the Sunflower team, Ulrik Pedersen and Alan Blond, had Danish legends Laid Back strumming a set centre stage. Elsewhere, the summer collections gave us a glimpse of what we'd be wearing if not seeking refuge under gabardine macs, with favourites The Garment, OpéraSPORT, Stamm and Ganni delivering a gamut of sweet-to-street summer style. In every sense, the show went on.
Here, in an ongoing round-up, we report on the best of Copenhagen Fashion Week S/S 2024.
The best of Copenhagen Fashion Week S/S 2024
---
Ganni
Guests were welcomed to the Ganni AI universe as creative director Ditte Reffstrup embraced the controversial technology – but not before some soul searching. The idea started when her husband and Ganni co-founder Nicolaj Reffstrup asked AI to create a Ganni collection as an experiment to see what it would do – and it turned out to be good. 'It made me terrified and I got really angry with him because it's so scary, but then I brought it to the office and we [realised] everything that's different is something that we, as human beings, have a tendency to be closed to and we don't want to welcome it because it's survival.' She didn't end up using the generated collection, but she did enlist ARTificial Mind founder Cecilie Waagner Falkenstrøm who specialises in humanising tech-art to create a personalised set and soundtrack. The catwalk itself saw a different type of innovation as leather-look dresses were crafted from Oleatex, a fabric generated using waste from olive oil production, and all-over sequins were made using Algreen which transforms seaweed into plastic-free paillettes. Meanwhile, the brand's famed collaborations came courtesy of round two of Ganni x New Balance and a tease of an inclusive upcoming capsule with model Paloma Elsesser.
The Garment
Being a brand focused on essential wardrobe items doesn't always have an easy remit when it comes to producing seasonal collections, let alone keeping it feeling fresh. Yet in an evolution from January's winter show The Garment designers Sophia Roe and Charlotte Eskildsen managed to pull it off. Beneath long duster coats and love-worn leather jackets that will work year-round were wispy cotton separates that prove irresistible to a summer wardrobe. Their napkin-style camisoles tied romantically at the shoulder, open-knits, and billowing cotton shirt dresses are the type of effortless staples that defy trends and keep warm weather a cool affair. Backstage, Eskildsen revealed that their foray into using more colours in their collections led them to use an innovative new printing technique that blends organic cotton with pineapple seeds which resulted in the yellow stripes seen on PJ-style cords. If that doesn't say fresh, then what does?
Remain
​​Another passing of the creative director baton took place at Remain this week as Martin Asbjørn was announced its new creative director. The designer, who took a bow at the end of the show, collaborated with its CEO Denise Christensen on this collection before he flies solo next January. As a result it gave us a tease of things to come with the brand still very much finding the sweet spot between smart and seductive. Sheer silk blouses with pencil skirts, pinstripe tailoring with a transparent sequin veil, and cropped blazers and burnout sequin cigarette trousers all cut a slinky line. 'I feel like the Remain woman is somebody who wants to be sexy in a more elevated way,' said Christensen after the show. 'She knows what she wants to show off and she knows what she doesn't.' Asbjørn is on the same page, saying that he is less interested in reinventing the Remain woman as satisfying her appetite – and he's feeling confident with it. 'In my heart, I was like, I'm the right guy for this,' he said of his appointment. Stay tuned.
Munthe
Munthe may only recently be getting the international recognition it deserves, but it has been laying the foundations for the fashion industry's increasingly popular artist collaborations since the 1990s when it was founded by creative director Naja Munthe. Her brand's 'Art Monday' digital gallery that celebrates female artists was keenly felt at her S/S 2024 collection where prints by contemporary artists Aline Gaiad and Heather Chontos provided not only the backdrops to the set, but emblazoned across trousers, dresses and T-shirts and realised in intarsia knits. Like textures on an artist's palette, textiles contrasted but always conversed striking an effortless note that felt as intuitive as a painter's approach.
Saks Potts
When Saks Potts designers Cathrine Saks and Barbara Potts planned to hold their show along a 200-metre stretch of the Copenhagen coastline with the audience sat on classic plastic chairs, they were likely not expecting sideways winds wreaking havoc. But in true indomitable style, they owned it. 'This unpredictable nature is an integral part of the Danish summer,' they told guests, 'teaching us to value every sunny day as it may be the last.' Let's hope not, as the collection they delivered has plenty of pieces to pack on a trip to the Danish capital and beyond. In tune with the notion of wardrobing, the pair reissued popular silhouettes from previous collections in new colours and materials to bring a 'fresh perspective' to their work – a smart move that harks back to the popularity of their cult Cappotto coats from which they made their name over multiple seasons. In a pre-planned move, the models arrived on a party bus, before getting a quick hair and make-up touch-up and braving the catwalk. Making her modelling debut, Alana Hadid (elder sister to Gigi and Bella) opened the show in a blue paillette dress worn under a camel leather jacket and over leather jeans, a silhouette and palette that carried throughout.
Baum und Pferdgarten
Dedicated to Copenhagen's hygge-fuelled summer holidays and the tourists that enjoy its shores, Baum und Pferdgarten's S/S 2024 collection, 'A Postcard from Copenhagen' refused to be drenched in the ironic backdrop of one of the wettest years on recent record. This outing was all about the energy that converges as cultures collide, less to do with the weather, more to do with a state of mind. It turns out it's a mood that can't be rained off. Tick-list icons in the city, including The Little Mermaid statue and the uniform of the Queen's guard, popped up as prints and emblems, while the city's vibrant graffiti scene got a nod with the brand's logo reworked for the occasion by creative directors Rikke Baumgarten and Helle Hestehave. Together with iridescent sequinned overdresses (a prevailing trend this week) and easy-going tailored denim, it held a mirror up to the evolving aesthetic of the city that has moved on from the minimalist stereotype towards more individual forms of sartorial expression. It was, said the brand, '[about] putting forward the concept that there are no rules for dressing in Copenhagen… the diverse sartorial expressions that are revealed are surprising, exciting and fresh. Ultimately, the collection is all-inclusive, embracing the style of the many and praising the often artistic, ways that people dress for the everyday.'
Stine Goya
Copenhagen may be famous for being one of the friendliest fashion destinations, but inviting the entire fashion pack to your house reaches new levels of hospitality. Stine Goya did just that for her aptly named show 'Homecoming', getting sign-off from her neighbours to clear traffic and turn her entire street into a runway. In fact, they all contributed to the set that saw trellis tables full of Tupperware and locally picked fresh flowers, Goya revealed post show, before proudly taking their seats front row. Aside from the set, Goya ran with the theme of revisiting the familiar but from a perspective of experience. Crisp pleating and expressive floral prints (that took their cue from those communal blooms) arrived on tailored separates and wiggle dresses paying testament to Goya's mission. The final piece of the puzzle came in the form of supermodel and close friend Helena Christensen who closed the show in a sculptural blue gown. 'I've known her for 25 years as she used to photograph me when I was modelling,' smiled Goya post show. 'I was really happy and honoured that she would actually do this show because she hasn't done a show in Copenhagen for five years.' It looks good to be home.
OpéraSPORT
Creative directors Stephanie Gundelach and Awa Malina Stelter have garnered a loyal following for their sporty take on Y2K chic. Most impressive here, however, is their ability to create a hype aesthetic while staying true to their zero-waste promise. All fabrics – from silk and wool to polyester – are made from industrial waste so no new material is generated, while cotton is either recycled or GOTS-certified, a commitment made since day one. This season, they came in silhouettes that continued to reinforce their signatures with art-house elevation. Sculpted jersey dresses and brushstroke prints were joined by jeans and going-out tops, skirts were layered over trousers with buttoned-up polo knits, and a cosy-looking line of padded jackets (especially given the downpour that drenched the show) delivered the pre-requisite athletic accent so beloved of the era. Anyone interested in snapping these styles up will have to pre-order as the brand makes to demand rather than fulfilling minimum orders to do away with excess product – also known as walking the walk.
Lattimier
Entitled 'Position is Power', Ervin Latimer's eponymous show put the stock in stockings this season. Making a comment on the male archetypes of the New York Stock Exchange, he opened the show as his drag alter ego Anna Konda, pulling some power moves around the catwalk to Hey Big Spender. The collection that followed is best described as subversive corporate-core – but make it fabulous. Shirts were bonded with a cascade of Bic biros; suits were worn with back-to-front braces; trousers were tasselled as if they had got caught in the office shredder (in fact, they were made from company invoices), and T-shirts ready 'Money, powder, glory'. Backstage post-show, Lattimier said he wanted to present 'how this kind of attire can [not only] express one's status, but the idea of what's real and what's not in that world'. Particularly clever were the open knits with zigzag intarsia reflecting the stock-market crash of 1998. 'It's the idea of the more you lose, the more exposed you become,' he smiled.
Nicklas Skovgaard
If there was a prize for the most original debut fashion show, step forward Nicklas Skovgaard. The designer teamed with the Dutch performance artist and professional ballerina Britt Liberg to make his first impression a memorable one as she performed a one-woman catwalk show. Changing into each look one by one to the ripples of organ music, she posed to the audience as though we were a mirror in her salon. 'I was really dreaming of showing clothes in a new way and doing my take on the fashion show,' Skovgaard told us backstage. 'I wanted to show you the details within the clothes, like what happens when you put it on and take it off. Getting dressed is an intimate [thing], then being so powerful when you wear it.' Surrounded by 16 mannequins wearing the rest of the collection, Liberg proved mesmerising as she confidently changed into 12 different outfits, each an ode to Victorian costumery realised using sustainable weaving techniques and presented through an alluring new lens. Both a provocative reinvention of the traditional fashion-show concept and a statement on the way women can use their clothes to feel the best version of themselves, it proved to be a playful-meet-cute debut for this Copenhagen-based talent. 'Because it's my first show, you know, I think it should really be my meeting with the world just like I want it to be,' he smiled backstage.
Sunflower
What's more feel good than 1980s electronic pop duo legends Laid Back performing its 1983 hit White Horse in the middle of the Sunflower runway? Its S/S 2024 menswear collection. The eleventh collection from creative director and founder Ulrik Pedersen and Alan Blond, it fused the pair's insistence on timeless wardrobe beauties that buck catwalk trends with a very timely sensibility. Beautiful wool tailoring worn with authentically-loved leather jackets and jeans with a vintage patina was the vibe here, worn with an attitude as easygoing as the pop maestros providing the soundtrack. Speaking after the show, Pedersen said it was about presenting the Sunflower signatures in a way that was elegant, 'but not too grown up'. Like the entertainment, these are clothes that exude confidence but remain young at heart.
Stamm
While childhood photos taken on film can often get lost in boxes, Elisabet Stamm dug her own out for her S/S 2024 show. Emblazoned on jackets, anoraks and tracksuits, images of animals were printed and patchworked, leading to a collection that brought Stamm's past into a very desirable present. 'They're really bad pictures from my childhood but I kind of felt like showing something that I felt connected to and that I felt joyful about and those were those memories,' she shared backstage. 'In an abstract way, even though they're my personal memories, I hope that many people can [connect] to it.' The sense of nostalgia rippled not only through motifs but materials. 90 per cent of the collection was crafted from deadstock fabrics or fabrics that I have used before. 'That's why I also work with digital prints because it adds a new layer to it,' she explained. With a soundtrack devised by her friend, the French producer Princ€, and a live performance by Scandinavian-Syrian rapper Silvana Imam, the takeaway here was skilful spontaneity. 'I never follow any recipe, even when I cook,' she smiled. 'When I design, I follow my heart and the process is what I feel and what I come by.'
Henrik Vibskov
'I want you to look. And feel. And want,' purred MC Jahmarl Crick, aka KyleLondonnn, centre stage atop a plinth in the middle of a silk-chiffon-lined boxing ring. 'Get into the fabrics, get into the prints, get into the colours.' Conducting a slow-motion face-off between models in the ring, who were – in classic Henrik Vibskov form – less mannequins, more characters in a story, the performer held court as the collection played out. The idea came about, said Vibskov, as he and his team played around with the idea of boxes and how as children 'we systemise and categorise' things. Then the idea moved to boxing, 'but not so much the violence but the mind games during the presentation,' he explained. 'I actually find that more interesting than the fighting.' The clothes reflected the stimuli, with bonnets and bags in the shape of gloves; shoes with ankle straps with velcro fastening tabs; embossed leather separates bound with whipstitch, and robes crafted from exquisite brocade. Ever the pioneer of sustainable fashion (Vibskov was well ahead of the curve in the 1990s), all the fabric in the collection was either recycled or organic, with 83 per cent of garments comprising fabric certification. There was even one look that he showed in a previous collection here. 'Why not?' he smiled backstage. 'It works.' Clever move, as ever, from a designer renowned for thinking outside the box.
P.L.N.
Presented on models whose features and frames were contorted with bandages and oversized mouthguards, Peter Lundvald Nielsen's S/S 2024 collection was an intensely personal one for the Danish designer. It was, he said, a comment on the need to protect oneself, something he felt impassioned to do after a recent stint in LA. 'I won't name any names, but when I worked out [there] I saw the industry from a different side, so I wanted to work with a fighting spirit,' he said. 'We want to protect ourselves, especially in the world that we live in right now.' It took shape with padded silhouettes referencing American football contradicted by a line of grunge-glamour dresses, a comment on extreme wealth yet conversely crafted from deadstock fabrics. The finale was a white leather wedding dress, a more commercial offering to counter the conceptualism, he said. 'If we want to survive as a company, we also have to produce and show what we can do in the studio, because everything is so production[-based] today. And I feel like that's really a shame. Because I love what I do. And I love working with my hands. But there's no money in it.'
Paolina Russo
As winners of sponsor Zalando's Visionary Award, the London-based Paolina Russo team headed to Copenhagen for its S/S 2024 show – a journey of discovery that was mirrored in this collection. Entitled 'Monolithics', it followed the path of a 'warrior heroine' on her travels through life and the mark she leaves behind her. The theme was realised in prints that were inspired by the pastel chalk pavement drawings of founders and CSM alumni Alex Russo and Lucile Guilmard and the cave inkings that predated them centuries beforehand. 'As people, we've created the same symbols for thousands and thousands of years,' said Russo backstage. 'This language that they left on the walls is the reason why today we understand where we come from,' added Guilard. Here, they were laser-etched onto the degradé denim, boleros and mini-skirts, a technique masterminded by their Portuguese collaborator Pizarro to reduce water wastage. Elsewhere, knitwear came in cotton using a weaving process that gave the prints a lenticular effect – fabric innovation becoming a key signature for this popular LVMH-prize nominated brand that everyone agrees is going places.
Levi's Plant-Based 501s
With denim big on the Copenhagen agenda, what better fashion week for Levi's to make its presence felt with the launch of its new plant-based 501s? Crafted from at least 97 per cent plant-based materials, all certified-organic cotton with a plant-based backpatch and ink made from wood waste, they are an icon reinvented. It has, says Paul Dillinger, VP head of product innovation, been a seven-year collaboration with indigo agronomy innovator Stony Creek Colors to create the 100 per cent vegetable indigo used to dye the jeans alone. 'Material innovation can't be rushed,' he said. 'The process for testing and validating each of these components against Levi's rigorous product integrity standards has taken time and patience.' While making Marlon Brando's famous jeans even more appealing may seem like a home run for the US-based brand, Dillinger got candid about the challenges denim brands face. 'The demand for cleaner, more ethical denim production standards is inconsistent, at best and insincere, at worst,' he said. 'Some data describe a new age of "conscious consumption" where an enlightened consumer is eager to research industry best practices and is willing to pay more for ethically produced goods. But there's a lot more data out there that indicates a disconnect between the consumer's stated values and their actual purchasing behaviour.' With more innovations in the pipeline, Dillinger's goal is to make jeans like these the new standard.
Receive our daily digest of inspiration, escapism and design stories from around the world direct to your inbox
Scarlett Conlon a freelance journalist and consultant specialising in fashion, design and lifestyle. Before relocating to Italy, she held roles as deputy fashion editor at The Guardian and Observer and news editor at British Vogue in London. She is currently a regular contributor Wallpaper* Magazine among other prominent international fashion and design titles.