Last chance to see: Devon Turnbull's 'HiFi Listening Room Dream No. 1' at Lisson Gallery, London
Devon Turnbull/OJAS' handmade sound system matches minimalist aesthetics with a profound audiophonic experience – he tells us more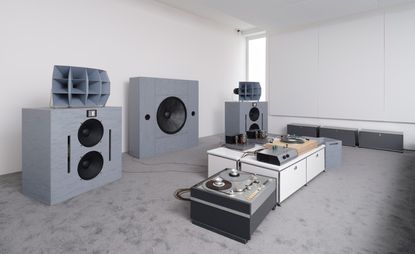 (Image credit: © Devon Turnbull, courtesy Lisson Gallery)
Wallpaper* Newsletter
Receive our daily digest of inspiration, escapism and design stories from around the world direct to your inbox
Thank you for signing up to Wallpaper. You will receive a verification email shortly.
There was a problem. Please refresh the page and try again.
Devon Turnbull, aka OJAS, pioneer of handmade, high-fidelity home-audio equipment, has taken over Lisson Gallery in London with 'HiFi Listening Room Dream No. 1'. Featuring a wall of brutalist speakers, a turntable, a series of amplifiers and seats typically reserved for meditation, this site-specific acoustic setting, in a purpose-built space at 27 Bell Street, offers a free, drop-in experience, to come and listen to music of the highest quality on the best audiophile system around.
Turnbull's imposing monolithic speakers have acquired an iconic status, becoming a must-have for those in the know, spied in homes of the likes of Mark Ronson or Daniel Arsham in candid social clips, evoking a simple yet gentle brutalism at Virgil Abloh's 'Figures of Speech' exhibition, as well as delivering the countercultural vibes at the stores of fashion retailers Sense and Supreme.
'I think that my practice looks the same as a lot of my artist friends', but no one would ever ask them: are you an artist or are you a designer?' he muses. The Lisson Gallery exhibition is an exercise in the art of listening. The audiophile's show has had visitors in tears, some of them staying seven hours, many returning several times a week to simply be present with the music. To lose themselves in the exquisite sonic clarity the 'Listening Room' holds.
'What I do is much more difficult than just making an artwork, right?' Turnbull says. 'The thing [doesn't just have to] look perfect. Without turning it on, you could walk in and say: oh, OK, this is awesome. But if it doesn't work perfectly, it all falls apart.' With muted colours, soft carpets, and comfortable lounging, though just off bustling Edgware Road, the space feels engineered for you to switch off – unsurprisingly, Turnbull's own upbringing in a Transcendental Meditation community influenced his design of the experience.
He is often found playing recordings from his own collection or chatting freely with those in attendance at the exhibition, between LPs, listening parties and the live jazz performances in the space, creating a real sense of communality and openness.
Ahead of some eagerly anticipated sessions celebrating iconic Blue Note recordings played on original reel-to-reel tapes, from artists like Herbie Hancock and John Coltrane, the American speaker-sculptor and artist sat down with Wallpaper*.
Devon Turnbull / OJAS on the art of enjoying audio
Wallpaper*: As a musician, I really appreciated being able to sit in a room and experience music in its 'purest' form.
Devon Turnbull: For me, the final end product – the mastered album – is really the masterpiece. It's the most perfected version of the artist's vision when they make a musical work. It's surprising that this doesn't just exist in every museum: a space where you can appreciate recorded music artworks. I'm very careful, though, to tell people that I'm not a conceptual artist: the work that you see in the gallery, and what you listen to, is the product of 20 years of work. The technical side of it is a very deep, long journey. But at the same time, there is a conceptual side that seems to really resonate with people.
W*: Why do you think it resonates so much at the moment?
DT: One reason is that the consumer electronics industry has really dumbed down. High-end audio has become a very small fringe market. It's crazy to me, but a lot of people in their thirties seem to have almost no experience of listening to a properly set up stereo reproduction system. The experience of three-dimensional sound is kind of a new experience to them. I went through a similar journey back in the early 2000s, when the first iPod came out: back then, the only way to put music on an iPod was to rip CDs to low-quality mp3 files. As a culture, we went through a period of audio quality degradation, followed by listening to music more passively. Now you discover music through some algorithm, and it just plays, but you don't sit down and listen to it and emotionally connect with it. I found that the music I was listening to changed as well; it became more like catchy background pop music as opposed to really great classical music performances or jazz.
W*: Music that challenges you a bit perhaps asks you to be more of a participant.
DT: That's true, [it] requires some deeper thought and analysis in order to be appreciated. That just doesn't happen with the AirPods on the go. In the 'Listening Room', I see people have this very deep emotional response a lot of the time. It's not uncommon to see people crying; I think some people have that response to really powerful music. But other people have mentioned to me that they also were just struck by sadness, because they realise that they've been missing out on this really valuable experience. A lot of people just said: 'It's not even about the equipment at that point, it's more, why don't I just sit down and listen?'
W*: It's like an act of being present, Zen-vibes. Do you draw inspiration from that side of Japanese culture besides audio?
DT: My main inspiration from Japanese audio culture is technological, like the way they design and pair high-efficiency speakers with low-power tube amps. But certainly, they also are very good at listening. In the past few years, people have been wanting to recreate Japanese listening bars – jazz kissas – but in my opinion, it hasn't been successful, because I've yet to visit one where people don't socialise. In Japan, you walk in, and no one is talking to each other. They're just sitting and listening. I don't think that that's achievable in the Western world because people aren't very comfortable doing that. I think that one of the most satisfying accomplishments of doing these gallery shows is that we manage to create an environment where people walk in, and they just sit and they listen.
'Devon Turnbull: HiFi Listening Room Dream No.1 and other works' is at at Lisson Gallery, London, until 26 August 2023, lissongallery.com
Receive our daily digest of inspiration, escapism and design stories from around the world direct to your inbox
Jorinde Croese is a London-based writer and musician. She's been an editor at 1 Granary since 2013 and at System Magazine since 2018. Her work frequently explores the intersection between fashion, art and design, with a deep understanding of emerging talent and established industry figures alike.