Edinburgh Art Festival 2023: from bog dancing to binge drinking
What to see at Edinburgh Art Festival 2023, championing women and queer artists, whether exploring Scottish bogland on film or casting hedonism in ceramic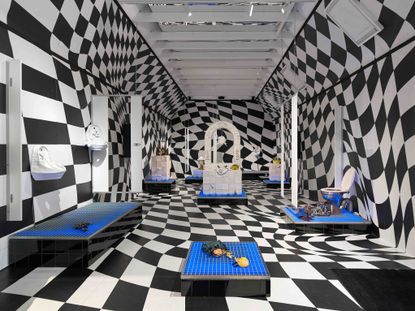 (Image credit: Photography: John Mckenzie )
Wallpaper* Newsletter
Receive our daily digest of inspiration, escapism and design stories from around the world direct to your inbox
Thank you for signing up to Wallpaper. You will receive a verification email shortly.
There was a problem. Please refresh the page and try again.
Edinburgh Art Festival (EAF) is running throughout August in its 19th edition, with a new director and many changes in its format. Championing women and queer artists, the programme spans independent venues and local institutions, and encompasses film, sounds, performance, installation and painting, ceramic, tapestry and sculpture across 35 venues throughout the city. While the curatorial approach addresses socio-political issues being tackled at the cutting edge of the art world, these intersect with more traditional exhibitions.
Festival director Kim McAleese, who took on the role a year ago, has put together a collaborative programme that brings together Edinburgh institutions of all sides, hosts visiting collectives and provides space for the commissioned programme.
From Rabindranath X Bhose's Dance in the Sacred Domain exploration of the ambiguity of Scottish bogland through their non-binary identity and Tarek Lakhrissi's twisting resin tongues and soundscape I wear my wounds on my tongue – both installed at Collective, at the top of Carlton Hill overlooking the city – to the dreamlike paintings of Andrew Cranston at Ingleby Gallery in New Town, you have the full swathe of Scottish contemporary art if you choose to seek it out.
'You can come up here and have, a lovely time walking about these beautiful, cobbled streets,' McAleese explained to Wallpaper*. 'But if you look at the public space around you and where that money has come from… I guess I want the role of the festival to be very much entangled with that. I'm not saying that we're going to answer all those questions, but at least bring artists in, and work closely with them to make space to ask them.'
Lindsey Mendick's 'SH*TFACED' at the stunning Jupiter Artland is a wonderful, unblinkered, hilarious and moving look at hedonism and alcoholism and the art party scene.
The sculpture park and gallery will host its Jupiter Rising festival, the 2023 iteration being a series of live events curated by Mendick, from 19 – 20 August.
In a concerted effort to combine local issues with the international, Haven for Artists, a queer-led multi-faceted artists' space in Beirut, has been invited to take part in a residency at EAF and participated in a talk looking at art space and social politics with the 2021 Turner Prize winning Belfast based-collective Array.
Looking at colonial issues is Barbadian-Scottish artist-on-the-rise Alberta Whittle's exhibition 'Create Dangerously', at Modern One. Her largest show to date, it looks at issues of race and identity through the mediums of tapestry, film, photography, print and mixed media.
Also looking at these themes is Australian artist Keg de Souza, in her sensory and thoughtful show 'Shipping Roots', the culmination of a residency at Inverleith House in Edinburgh's Botanical Gardens. Drying branches of heady-scented eucalyptus hung with terracotta fabrics, and interactive batik works and drawings illustrate the journeys and histories of certain plants in this educative and interactive exhibition.
Another highlight of EAF is Sean Burn's film Dorothy Towers, which shares a venue with Haven for Artists at the French Institute. The film explores a pair of residential tower blocks in Birmingham, next to the city's Gay Village neighbourhood and a haven to its community. In presenting the stories of people who lived in and frequented the towers, including LBGTQ icon Twiggy, Burns seeks to create a record for future generations, as well as an artwork for today.
'These stories contain knowledge that future artists, writers, students, and young queer people will hopefully find as vital, funny, fascinating and moving as I have/do,' he explained. 'As assured as I am in recording histories, I am sensitive to how that information enters different spheres and the politics engaged in it becoming material for an artwork. I want my work to articulate its material's complexity – and opacity, if necessary.'
Politics and social issues touch every corner of the festival – from 'Smash Hits', Grayson Perry's survey at the National Galleries of Scotland, to 'Scottish Women Artists: 250 Years of Challenging Perception' at Dovecot – and this is complemented by the commissioned schedule of younger or emerging artists to offer a rewarding programme.
As McAleese looks to the future of the festival, she wants to build up a longer-term commissioning side and deepen partnerships locally and internationally, building on the long history of the festival with a concrete curatorial focus that extends bridges and supports Scottish artists at a time when resources are being cut. Next year should be interesting…
Until 27 August 2023, edinburghartfestival.com
Watch Rabindranath X Bhose's Dance in the Sacred Domain
Receive our daily digest of inspiration, escapism and design stories from around the world direct to your inbox