Liberty presents two Futurism-inspired fabric collections
Milan Design Week 2023: Liberty collaborates with interior designer Federico Forquet on a collection of fashion and interior fabrics inspired by Futurists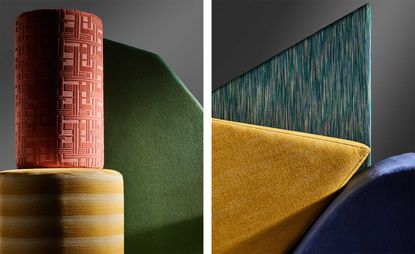 (Image credit: Neil Godwin at Future Studios for Wallpaper*)
Wallpaper* Newsletter
Receive our daily digest of inspiration, escapism and design stories from around the world direct to your inbox
Thank you for signing up to Wallpaper. You will receive a verification email shortly.
There was a problem. Please refresh the page and try again.
Discover the Wallpaper* guide to Salone del Mobile 2023 and Milan Design Week
British department store Liberty may be known for its heritage floral textiles, but for its latest interiors and fashion fabrics collection, a more geometric aesthetic has been embraced. The FuturLiberty range, launching at Milan Design Week 2023 (and with exhibitions open until 3 September 2023), draws heavily on Futurism and Vorticism, the early 20th-century art movements that celebrated the powerful dynamism of rapidly evolving modern life.
Liberty at Milan Design Week 2023: tribute to the Futurists
The creative steer for FuturLiberty came from nonagenarian Italian designer Federico Forquet, who met Andrea Petochi, Liberty Fabrics' managing director, as the world was emerging from the Covid pandemic, and was invited to collaborate on a collection. As Petochi recounts: 'Federico said, I love Liberty, but I can't help you with classic flowers, because there have been better masters before me. But maybe you can think about how avant-garde artists have reacted to moments of crisis and social change.' Forquet suggested the work of the Futurists, a group of Italian artists active in the early 20th century, whose works marvelled at machines, industry, power and speed through abstracted and dynamic forms.
So, ensconced in Forquet's Tuscan villa, the Liberty fabrics and product team, led by design director Mary-Ann Dunkley, pored over Futurist paintings and experimented with patterns, guided by Forquet's vision. 'It was lovely to have the confidence of his direction to focus us on geometrics,' says Dunkley. 'He thought each design should have a rhythm.'
Liberty has been creating fabrics since the 1880s, so consulting its archive was a vital part of the design process. Liberty's archivist helped the team navigate more than 50,000 historic designs to find relevant touchpoints, alighting on the 1960s collections of former Liberty design director Bernard Nevill. Two of his ranges, Tango and Jazz, were inspired by Vorticism, the British art movement that grew out of Futurism. 'A whole new world of knowledge opened up,' says Dunkley. 'And we were really excited that we had found the British version, because we always want a connection of how something is related to Liberty.'
After combing through extensive inspiration sources, Dunkley's team merged and linked pictorial references to become repeatable fabrics. A range of patterns was developed, used on a variety of fabrics in different colourways. 'Creating the artwork was the first point, but then transforming them into interiors was a very different challenge,' says Dunkley.
The patterns all have a strong geometric language, but convey a more playful air than their artistic inspirations, in part due to Forquet's insistence on the importance of colour and nature.
During Milan Design Week, Liberty will open two exhibitions in the city. One, at Museo del Novecento, will focus on the Futurist and Vorticist artworks that inspired FuturLiberty, drawn from both the museum's collection, as well as loans from other institutions including Tate. These will be placed alongside some of the FuturLiberty interiors fabrics, to see how inspiration translates to design. The other show, at Palazzo Morando, will trace a link between Liberty's emergence amid the Arts and Crafts movement to Nevill's design direction in the 1960s to FuturLiberty. The fashion fabrics of the new collection will feature more prominently, appearing in an installation produced specifically for Milan Design Week, and Dunkley says this show will be 'much more playful'.
Both Milan exhibitions have been developed in close collaboration with Ester Coen, a renowned art historian and curator who focuses on historical avant-garde movements. Coen says the shows aim to reveal 'the dialogue between two of the most important historical avant-gardes of the 20th century, Futurism and Vorticism, for the first time in an extensive manner'. The FuturLiberty collection, she says, 'was born within the logic of continuity and assertion of the spirit of the avant-garde. It has within it all the artistic potential of those languages, together with their energy and commitment towards a valuable future'.
Liberty will also be launching a book about the FuturLiberty project, published by Thames & Hudson, during Milan Design Week, which will reflect more broadly on how art can inform design. 'What we are doing here [with FuturLiberty] is more true to at least my vision for Liberty, which is to be an artistic company,' says Petochi, who is interested in the dialogue between society and creativity – and how an institution such as Liberty can play a role in that.
As the luxury store prepares to celebrate its 150th anniversary in 2025, this all comes at a time when it is reflecting on the past and looking ahead to the future. Through FuturLiberty's focus on avant-garde art, Liberty is positioning itself as an innovator and a disruptor, albeit one rooted in tradition.
'FuturLiberty: Avant-garde and Style' is on show at Museo del Novecento (Piazza del Duomo, 8) and Palazzo Morando (Via Sant'Andrea, 6) until 3 September 2023
See the May 2023 issue of Wallpaper*, on sale 13 April, for more Salone del Mobile previews. Wallpaper* is available in print, on the Wallpaper* app on Apple iOS, and to subscribers of Apple News +. Subscribe to Wallpaper* today
Receive our daily digest of inspiration, escapism and design stories from around the world direct to your inbox