Museum of Art and Photography in Bangalore aims to democratise art and culture
MAP, the Museum of Art and Photography in Bangalore by Mathew & Ghosh Architects, shines a new light on Indian art and culture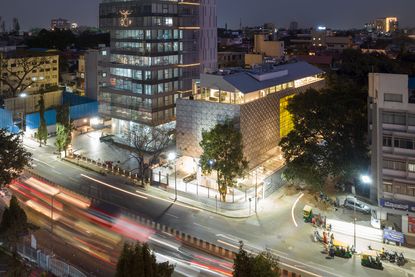 (Image credit: Iwan Baan)
Wallpaper* Newsletter
Receive our daily digest of inspiration, escapism and design stories from around the world direct to your inbox
Thank you for signing up to Wallpaper. You will receive a verification email shortly.
There was a problem. Please refresh the page and try again.
The Museum of Art and Photography (MAP) wasn't born as a museum – at least, not in the flesh. Conceived by philanthropist and collector Abhishek Poddar in 2020 as India's first online-only art and photography gallery, it effectively upended the typical 'physical-first, digital-next' museum rulebook by assuming a bricks-and-mortar avatar earlier this month, three years after its digital launch. Situated in the heart of Bangalore, at the crossroads of Vidhana Soudha (the state capitol), The High Court, and the Government Museum, MAP – which officially opened its doors on 18 February 2023 – aims to preserve India's rich artistic legacy by democratising art and culture, and making it accessible to diverse audiences. The museum is led by director Kamini Sawhney.
Museum of Art and Photography (MAP) in Bangalore
The building, designed by leading Indian architects Soumitro Ghosh and Nisha Mathew of Bangalore-based multidisciplinary practice Mathew & Ghosh, is spread across five storeys and 4,089 sq m. It plays host to five galleries, a 130-seat auditorium, a museum shop, an art and research library, a specialised research and conservation facility, an education centre, and a still-in-the-works rooftop restaurant.
For Ghosh and Mathew, the primary goal was ensuring an architectural blueprint robust enough to protect the artworks on display, yet discreet enough to afford them pride of place. By the same token, the main galleries are cocooned in opaque enclosures that shield the artworks from exposure to ultraviolet light, while also ensuring temperature and humidity control. At the same time, the circulation areas are enveloped in glass, making nature a close neighbour and mitigating museum fatigue (a selection of panes feature a dichroic finish that projects a shimmering, colour-shifting effect in relation to the changing light and the position of the observer). The experience culminates in a terrace that offers unhindered vistas of the city, as well as the neighbouring 300-acre Cubbon Park, one of the city's historic hallmarks.
From the outside, the building is reminiscent of a post-industrial water tank, a metaphor for the capacity of art to quench the thirst for wisdom, to galvanise society and culture, and to reflect and evolve. The stainless steel façade is emblazoned with industrially pressed matte-finished panels that form a container-like skin over the structure, holding a mirror to the tanks of Bangalore's bygone colonial era. The building also widens as it moves upwards, an architectural intervention that optimises the structure, allowing the galleries above to feel more generous, and appear almost column-free. In addition, MAP is poised to be the most inclusive museum in India, with special integrations for people with disabilities.
In a departure from conventional categorisation, MAP's collection of over 60,000 works (of which about 500 are currently housed in the museum), blurs the line between perceived high art and more quotidian forms of creativity. In the same vein, modern and contemporary paintings, sculptures and graphics sit on the same plane as artisanal textiles, indigenous art, and memorabilia of India's world-renowned film industry.
The collections, broadly speaking, span pre-modern art, textiles, craft and design, living traditions, printing and advertising, photography, and modern and contemporary art. Of particular note is the photography collection, which is one of the most diverse in India, with artists and oeuvres ranging from the mid-19th century right up to the present day. In a reflection of its inclusive ethos, many artworks are also accompanied by tactile responses, which patrons can touch and feel as a visual alternative.
As part of its inaugural line-up, MAP unveiled four never-before-seen exhibitions, each on view for a limited period. 'VISIBLE/INVISIBLE', curated by Sawhney, is a groundbreaking showcase that examines the incongruity between the role of women in Indian art history and their relative subservience in modern public domain. Equally attention-worthy is 'Jyoti Bhatt: Time & Time Again', a show of over 160 photographs, as well as contact sheets and archival materials, of the eponymous Indian modernist printmaker, painter and photographer. The show is curated by Nathaniel Gaskell, director of MAP Academy, an online resource that offers digital courses and access to MAP's exclusive encyclopedia of art history from the region.
On the ground floor, Chirag-e-AI, a new series by contemporary artist LN Tallur, reinterprets sculpture and lamps in MAP's collection to explore the overlap between artificial intelligence and ritualistic belief systems. Tallur's works, which question humanity's growing reliance on technology, cut a sharp contrast to those in MAP's Sculpture Courtyard, where an installation by British sculptor Stephen Cox, titled Dialogues in Stone, incarnates mythological goddesses and sages in minimalist basalt forms. Additionally, specially commissioned pieces by Israeli artist and designer Arik Levy, and noted Indian contemporary artists, Ayesha Singh and Tarik Currimbhoy, appear in key areas throughout the museum.
The museum lies at the intersection of art and technology, with digital integrations underpinning the exhibits on display. In the welcome atrium, for example, flickering digital lamps, lit via QR codes, pay homage to the Indian tradition of placing a lamp near the doorway. Likewise, MAP's recently launched digital persona of the late artist MF Husain – conceived in collaboration with Accenture – lets visitors interact with the artist in real time. Technologies such as photogrammetry for 3D-scanning of artefacts, holograms, interactive projections, interactive touch walls, sensor-based digital art views, and AI-enabled art and pattern searches, are among the tools available to bring each exhibit to life and give each visitor a deeply personalised experience.
For Poddar and Sawhney, the hope is for the Museum of Art and Photography to make an impression on the next generation. 'More than half our population is under 25 years old; no country has more young people. I believe they are the ones, the generation of change, who will eventually be the real curators of MAP,' says Poddar.
As a beacon of art and culture in the Indian subcontinent, MAP promises to put forgotten art and artists back on the map, and blaze a new trail for Indian creativity across the world.
Receive our daily digest of inspiration, escapism and design stories from around the world direct to your inbox