Midleton Very Rare unveils Chapter Four whiskey in its Silent Distillery Collection
Midleton Very Rare Silent Distillery Collection Chapter Four is one of the oldest and rarest expressions in Irish whiskey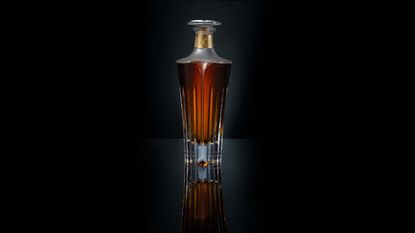 (Image credit: Midleton Very Rare )
Wallpaper* Newsletter
Receive our daily digest of inspiration, escapism and design stories from around the world direct to your inbox
Thank you for signing up to Wallpaper. You will receive a verification email shortly.
There was a problem. Please refresh the page and try again.
Midleton Very Rare's Silent Distillery Collection is an exceptional set of six Irish whiskeys ranging from 40 to 50 years old. Commencing in 2020, the distillery began to release one chapter a year, to span six years and culminate in 2025, when the last bottling from the Silent Distillery casks will be 50 years old. The 2025 release will mark the 200th anniversary of the founding of the Old Midleton Distillery (operational from 1825 to 1975).
Midleton Very Rare Silent Distillery Collection
Mention of a 'silent distillery' never fails to cause a frisson in the whiskey world, as the spirits released from these revered places are extremely rare and highly sought after by whiskey enthusiasts and collectors.
Let us explain: a 'silent distillery' is one that has closed its doors and ceased production. The Old Midleton Distillery in County Cork, Ireland, was fully decommissioned in 1975 and will never produce whiskey again. Only 119 bottles of Silent Distillery Chapter Four will be available worldwide and they contain the last drops of a very precious liquid.
Chapter Four is a 48-year-old blended Irish whiskey born out of the careful marrying of a grain and a pot still whiskey. The two whiskeys were laid down in 1973 by master distiller emeritus Max Crockett and each developed their own defining characteristics as they aged side by side for 48 years in two separate ex-bourbon casks. They were then blended in a process that involved adding the pot whiskey into the particularly delicate grain whiskey cask – a nerve-racking manoeuvre in terms of not spilling a single drop of the precious liquid.
After blending, the whiskeys completed their maturation journey together for a further 48 days. During this time their flavours intertwined, complementing each other and resulting in an outstanding spirit that is silk textured and full bodied. Pot still whiskey brings notes of vanilla, caramelised fruit, and spice, while grain whiskey offers herbal, floral flavours. Together they make a wonderfully complex, yet smooth and balanced expression.
Kevin O'Gorman, master distiller at Midleton Distillery, explains: 'The marrying process for Chapter Four is a true testament to the science and art of whiskey making. It's a sensitive process of allowing the different elements to merge and mingle over time, resulting in a truly exceptional and complex whiskey.'
Midleton's proud Irish heritage is celebrated by the presentation of Chapter Four in a mouth-blown crystal decanter produced by Ireland's Waterford Crystal, and presented in a bespoke wooden cabinet handcrafted by Irish designer John Galvin. Originally from Cork, master craftsman Galvin draws inspiration from the natural world. He selected rare lacewood to encase Chapter Four, with striking flecks of red and brown reminiscent of the barley fields from which the whiskey originates. The cabinets are enhanced with shagreen leather and detailed with sterling silver and oak reclaimed from Irish whiskey vats.
O'Gorman comments: 'Crafting the Midleton Very Rare Silent Distillery Collection Chapter Four was like preserving a piece of history in a bottle. It's an honour to continue the legacy of the old distillery and offer something extraordinary.'
Midleton Very Rare is renowned as the pinnacle of Irish whiskey, and ultra-premium Chapter Four is bound to excite whiskey connoisseurs all over the world. It is bottled at its cask strength of 53.9 per cent and will be available to purchase for €50,000.
Receive our daily digest of inspiration, escapism and design stories from around the world direct to your inbox
Melina Keays is the entertaining director of Wallpaper*. She has been part of the brand since the magazine's launch in 1996, and is responsible for entertaining content across the print and digital platforms, and for Wallpaper's creative agency Bespoke. A native Londoner, Melina takes inspiration from the whole spectrum of art and design – including film, literature, and fashion. Her work for the brand involves curating content, writing, and creative direction – conceiving luxury interior landscapes with a focus on food, drinks, and entertaining in all its forms