Inside the travelling exhibition celebrating 125 years of luggage brand Rimowa
From celebrity suitcases to rare special editions, Rimowa's 'Seit 1898' exhibition catalogues over a century of the German luggage brand, making stops in Tokyo, New York, Shanghai and Cologne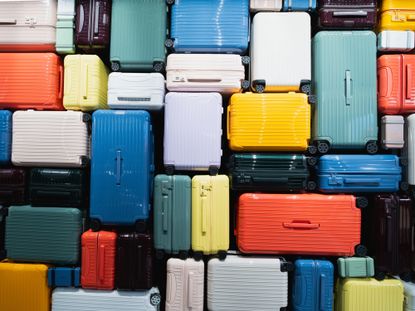 (Image credit: Photography by Stefan Dotter)
Wallpaper* Newsletter
Receive our daily digest of inspiration, escapism and design stories from around the world direct to your inbox
Thank you for signing up to Wallpaper. You will receive a verification email shortly.
There was a problem. Please refresh the page and try again.
A new travelling exhibition, 'Seit 1898', filled with 'living artefacts', celebrates 125 years since the founding of Rimowa in Cologne, the German city the luggage brand continues to call home more than a century on.
'These are far from museum objects,' says Rimowa CEO Hugues Bonnet-Masimbert at the exhibition's first stop in Tokyo, where, in June, it occupied Jing Harajuku, a glass-walled gallery space close to the district's busy metro station. This is not to say that they're not precious; rather that many of the objects have been donated by those who use Rimowa cases daily, including a phalanx of stars from Pharrell Williams to LeBron James. The exhibition's next stop is New York, then Shanghai, before finally returning to Cologne; afterwards, cases will then 'return to their owners and go back to their lives'.
'Seit 1898' exhibition: celebrating 125 years of Rimowa
The exhibition's climax is a display of cases from notable clients that span the fictional (an aluminium case emblazoned with the face of Emily in Paris' outré couturier Pierre Cadault, for the faux 'collaboration' depicted in the Netflix show), the surreal (a clear carry-on used by artist Takashi Murakami, stuffed with soft toy versions of his signature cartoon flower motif) and the heavily customised (musician Patti Smith's is covered with studio stickers). Other cases are variously battered or scuffed, marks of wear that Bonnet-Masimbert says only attest to their status as lifelong travelling companions.
'There's an emotional part to it – people feel so proud of their beloved Rimowa case when they travel, and they were delighted to lend them to us and have them on display,' says Rimowa's senior VP of product and marketing Emelie De Vitis, noting that, such is the reality of these pieces, several suitcases came with the discarded belongings of their owners still inside ('no names,' she smiles). 'At the end of the day, they are meant to be suitcases,' says Bonnet-Masimbert. 'They're not meant to be frozen in the past.'
The choice of Tokyo as the exhibition's first destination was purposeful; in the 1970s, Japan was one of the first international destinations where Rimowa was sold. Its signature aluminium ridged suitcase found rapid success in the country, which De Vitis suggests is down to an affinity between German and Japanese principles of design. '[The Japanese] love durability, they love craftsmanship, they love high design,' she says. 'I think it has acquired cult status.'
Other stops will have their own resonance; New York will coincide with the city's fashion week, while a final homecoming in Cologne is currently planned to close the celebrations in 2024. 'We are super proud to be German,' says De Vitis of the brand retaining its roots in the country (French luxury goods conglomerate LVMH purchased a controlling share in 2016). 'Germany represents engineering, craftsmanship, excellence.'
Such facets of Rimowa are on full display in the exhibition itself, which is entered through a liminal reception space evoking the halcyon days of 1960s and 1970s air travel (one wall is mounted with a trio of clocks set to Tokyo, New York and Cologne time, while a vivid blue carpet features vintage Rimowa logos). Visitors are greeted with a huge version of the house's aluminium suitcase – first introduced in 1937 and given its signature ridges in 1950 – divided into its composite parts and hovering in the air.
Some exhibits trace the brand's history: one display, featuring shimmering balloons held aloft with puffs of air, introduces the lightweight polycarbonate model launched in 2000. Others trace Rimowa's rich tradition of bespoke creations, including work for performers (a custom-built case for musician David Garrett's Stradivarius violin) and sports stars (a tennis racket travel case for Roger Federer), as well as numerous high-profile collaborations with the likes of Dior, Supreme, Fendi, Moncler and Off-White.
The exhibition also operates something like a wunderkammer of curiosities: a cigar case, champagne box, TV and vanity case by the brand all feature. 'We want to show how versatile Rimowa is, how much we like to play with pushing the boundaries, and how we are comfortable being as maverick as we are,' says De Vitis. 'Hopefully, that comes through – we didn't just want to do it from 1898 to now, just one suitcase after the other.'
Bonnet-Masimbert agrees that 'Seit 1898' should 'not just look backwards, but explain all the steps of the brand's journey. It's not a frozen vision of a distant, glorious past, but fuel for us to become better and better'. Innovation and creativity are central, he says, facets he hopes not to simply continue but 'accelerate' as the brand makes its way through its second century in business.
'I think the suitcase industry can be a little serious,' he says. 'But in the hands of the right people, it can become a fun journey.'
'Seit 1898' Rimowa 125th Anniversary Exhibition's next stop is New York, where it will run from 8-17 September, 2023 at Chelsea Factory. Stops in Shanghai and Cologne, dates to be announced, will follow.
A version of this article appears in the September 2023 Style Issue of Wallpaper*, on sale now available in print, on the Wallpaper* app on Apple iOS, and to subscribers of Apple News +. Subscribe to Wallpaper* today
Receive our daily digest of inspiration, escapism and design stories from around the world direct to your inbox
Jack Moss is the Fashion Features Editor at Wallpaper*. Having previously held roles at 10, 10 Men and AnOther magazines, he joined the team in 2022. His work has a particular focus on the moments where fashion and style intersect with other creative disciplines – among them art and design – as well as championing a new generation of international talent and profiling the industry's leading figures and brands.
With contributions from