Rolls-Royce La Rose Noire Droptail is a titanic two-seater many years in the making
Behind the scenes at Rolls-Royce's Coachbuild division, we explore the extraordinary details of this bespoke commission, an open-topped speedster imbued with the spirit of a rose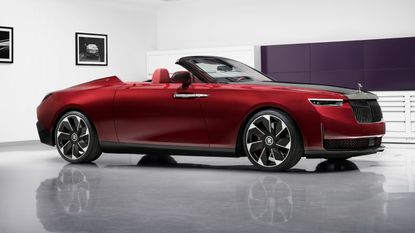 (Image credit: Rolls-Royce Motor Cars)
Wallpaper* Newsletter
Receive our daily digest of inspiration, escapism and design stories from around the world direct to your inbox
Thank you for signing up to Wallpaper. You will receive a verification email shortly.
There was a problem. Please refresh the page and try again.
This is Rolls-Royce's newest coachbuilt model, La Rose Noire, the first in a quartet of Rolls-Royce Droptails that are being handmade by this specialist division. Each car will be substantially different in detail, if not in overall form.
A close relationship with traditional coachbuilding is how car makers like Rolls-Royce began, by building a ladder frame chassis and drivetrain that would be 'clothed' by a dedicated coachbuilding firm, either in the UK, Europe or the USA. All of these specialities eventually blended together in the modern monocoque era – starting after the Second World War – when chassis and body became united in a structural whole.
As a result, modern bespoke construction is massively more complex and expensive, albeit not impossible. Rolls-Royce is perfectly placed to know those rarefied customers who make a sport of overcoming complexity through indulging in expense. According to Torsten Müller-Ötvös, Rolls-Royce's CEO, 'contemporary coachbuild is the pinnacle of pinnacles', of the auto industry.
As a manufacturer whose 'standard' models regularly top out at over half a million pounds each due to the sheer amount of customisation that each client demands, the Coachbuild series represents another step up. 'This car is contemporary patronage in its truest form,' says Müller-Ötvös, explaining how La Rose Noire is the culmination of a four-year journey for a very particular client.
La Rose Noire is the company's first two-seater car in the modern era, with proportions and forms that make the bodywork feel more compact and tauter. This is illusory, because at 5.3m, the car is no shorter than any other modern Rolls-Royce. Instead, the bodywork is a canvas for a more minimal approach, with an upsweep line on the door panels pushing the form forwards, and elements like indicators integrated into the door handles to keep the flanks clear.
It is also the third in a series of 'Tail' cars, including the one-off Sweptail (the 'extrovert', according to Anders Warming, director of design at Rolls-Royce), and the trio of Boat Tail cars ('yachts for the road') built in 2021, of which only two were made public. As the next chapter in this 'tale of tails', the Droptail is described as a 'wholly new expression of Rolls-Royce'. In part, this expression has come from looking back.
In particular, the design team drew inspiration from the American take on Rolls-Royce in the inter-war era, when the company's fabled chassis were often turned into two-seaters for owners to drive themselves, unlike the very back-seat-focused, chauffeur-driven body styles created for Europeans. Warming and his colleague Alex Innes, head of Coachbuild, cite the example of F Scott Fitzgerald's Jay Gatsby, driving his Rolls from Long Island into Manhattan ('On weekends his Rolls-Royce became an omnibus, bearing parties to and from the city between nine in the morning and long past midnight…').
As a result, American Rolls-Royces of the era often had very different proportions. 'This kind of car is about two people experiencing something together,' says Warming, adding that 'a two-seater configuration is entirely new to Rolls-Royce in the modern era'.
Another piece of history that informed the design team was a 1913 special edition of the Silver Ghost, nicknamed 'The Sluggard' in a typically self-deprecating English way. This one-off was capable of exceeding 100mph – exceptional for the time – and had a fuselage-like polished metal body that was both functional and beautiful.
The initial sketches of Droptail attempted to capture the sense of enclosure and visual drama of these cars, a look that Warming describes as 'high collared'. This is emphasised by the deep flanks, the shallow windscreen, the short overhangs and the rearwards sloping front grille. 'We felt liberated as a team to play with the crown jewels – the Pantheon grille and the Spirit of Ecstasy,' says Warming.
A key source of visual inspiration for the exterior was yacht design, something that Warming also cited in relation to Rolls-Royce's first EV, the Spectre. The rear of the Droptail is referred to as the 'Transom area', a term taken from yacht design, where the deck slopes down to meet the waterline.
Although Droptail is an open speedster, there is also a glass and carbon fibre canopy that can be locked in place to transform it into a closed coupé, with a hint of the low-top American custom hot rod when it is in place. You'll need a couple of staff members on hand to help with the heavy lifting, and the electrochromatic glass makes it opaque if needed.
Inside is where craftsmanship goes to town, much like Gatsby and his entourage streaming across the Queensboro Bridge. La Rose Noire has cabinet-like interior panelling that creates a wooden nest wrapping around the occupants. The red and black colour palette is evident everywhere; the client family has an affinity with France, as well as connections to the champagne industry, and chose the velvety reddish-black petals of the Black Baccara rose as the inspiring object behind the car's colour scheme and interior choices. Not only is this represented in the deep paintwork, which changes in tone depending on the viewing angle, but also in the extraordinary piece of parquetry that wraps around the cabin.
Made from 1,603 hand-finished wood pieces, mapped out and assembled over nearly two years, this component is the most complicated woodwork ever undertaken at Goodwood. The red elements represent abstracted rose petals, scattered across the interior and rear deck, using Black Sycamore wood sourced from the east of France.
There are other dizzyingly complex finishes on display, including leather trim with a thin layer of shimmering copper, and the bodywork paint effect, which was achieved by covered a base coat with five layers of clear lacquer. In the heart of the dashboard is a special docking station for a unique timepiece, an Audemars Piguet Royal Oak wristwatch that becomes the car's focal clock when the owner is driving.
And the anonymous owner will be driving the car, no question. 'It's not a concept,' Innes stresses, 'it's a real bespoke solution that will be used.' Under this extraordinarily expensive skin is a contemporary Rolls-Royce drivetrain, with a slightly tuned version of the company's twin-turbocharged 6.75-litre V12 engine to give an extra 30bhp (the first time, the company notes, that it has ever increased engine output for a Coachbuild project). Other typical Rolls-Royce elements, like a drinks cabinet, are also elevated to a different level. La Rose Noire has a 'Champagne Chest', containing hand-blown crystal flutes and a serving tray made from open pore Black Sycamore wood.
Coachbuild works both ways for Rolls-Royce. Cars like the Boat Tail and Droptail are not just showcases for the company's capabilities, but a way of pushing the envelope in terms of design and craft. 'The commitment we require from these clients is really significant,' Warming acknowledges, 'Coachbuild is a world within a world – it's a playground for us to try things out.'
Ultimately, however, it's a chance for a customer to make a significant piece of automotive history. As Müller-Ötvös concludes, 'The La Rose Noire Droptail, like the remarkable clients who dared to make such a potent and contemporary statement, will be written into Rolls-Royce history forever.'
Receive our daily digest of inspiration, escapism and design stories from around the world direct to your inbox
Jonathan Bell has written for Wallpaper* magazine since 1999, covering everything from architecture and transport design to books, tech and graphic design. He is now the magazine's Transport and Technology Editor. Jonathan has written and edited 15 books, including Concept Car Design, 21st Century House, and The New Modern House. He is also the host of Wallpaper's first podcast.