Introducing Wallpaper* September 2023: The Style Issue
Discover the looks of the season, Hedi Slimane's new Celine store in Paris, Silvia Prada's saucy take on beauty and more in Wallpaper* September 2023, on sale now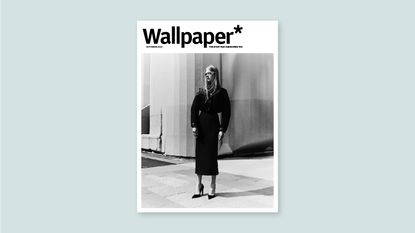 (Image credit: Melanie + Ramon)
Wallpaper* Newsletter
Receive our daily digest of inspiration, escapism and design stories from around the world direct to your inbox
Thank you for signing up to Wallpaper. You will receive a verification email shortly.
There was a problem. Please refresh the page and try again.
September can only mean one thing – our biannual Style Special, where we present our highlights of the A/W23 fashion collections. Autumn/Winter 2023 is all about reinvention, clarity and high design, says fashion director Jason Hughes, who highlights the sharp shoulder lines of Saint Laurent's women's tailoring, the exaggerated collars of Prada, and the Loewe dress which, with the idea of reduction, is almost a memory of a dress, in a nod to Gerhard Richter.
We round up the season's defining looks in The Glossary, while our main womenswear and menswear shoots are both big and dramatic – huge sweeping silhouettes, with a play on materials and textures such as faux fur and leather.
We visit the new Celine store on Paris' Rue Saint-Honoré, designed by Hedi Slimane, where he presents his new couture offering, including tailoring and evening wear, and a salon-style mezzanine displaying the house's 'Haute Maroquinerie' bags, each handcrafted by a single artisan, and the pinnacle of Celine's accessories offering.
Then we head over to Gucci ArtLab in Tuscany – home to all of the Italian fashion house's shoes and leather goods prototyping processes – to experience the artisans and their high-tech school and testing laboratory, which combines craft and technology to shape the future of sustainable design; the metal moulds archive, the updated loafer, the 'Jackie' bag, the bamboo handles – they all embody the timeless magic and glamour of Gucci.
Meanwhile, New York artist Silvia Prada created this issue's saucy and subversive beauty story, which is, she says, 'a conversation between red lipstick and one of my favourite photography books, The Ultimate Book of Nudes by David Vance'.
At Wallpaper*, we like to take a broad view of fashion and consider how it transcends and informs the creative industries. At V&A East, architecture looked to fashion for inspiration in the form of a silk taffeta Balenciaga dress. 'I began to think about the space between the figure and the form, what it is and what it can be,' says John Tuomey of O'Donnell & Tuomey. 'They are not visibly connected, but they are very connected, and you move in between the body and the fabric.' It sparked an idea about a building that would allow space for people to do the same.
For our Armani Casa selected pieces, we celebrate their use of precious materials, refined finishes and innovative textiles. The furniture has an enduringly elegant aesthetic, and here we've paired it with important Italian art and rare artefacts.
Finally, over to the Venice Venice, a truly inspirational new hotel conceived by Alessandro Gallo and Francesca Rinaldo, the husband-and-wife founders of sneaker brand Golden Goose. 'We wanted the Venice Venice to be as far from a typical "art hotel" as possible,' says Gallo. 'The art isn't an afterthought. Instead, it is born with the room.' You can stay in a canalside suite conceived as an homage to Christo and Jeanne-Claude, with original sketches of their landscape-spanning installations, or an attic room dedicated to the Fluxus movement, including a looping video of I Like America and America Likes Me, a 1974 performance by Joseph Beuys. 'Hospitality is the only way to touch all of these things. You can meet people, you can eat, you can have fun, you can visit art, you can sleep.'
Now, what could be better than that! Enjoy the issue.
Sarah Douglas
Editor-in-Chief
The September 2023 issue of Wallpaper* is available in print from 10 August, on the Wallpaper* app on Apple iOS, and to subscribers of Apple News +. Subscribe to Wallpaper* today
Receive our daily digest of inspiration, escapism and design stories from around the world direct to your inbox
Sarah Douglas is Editor-in-Chief for Wallpaper*, where she is responsible for the content across the print magazine, digital platforms, in-house creative agency Bespoke, brand partnerships, and events. Joining Wallpaper* in 2007 as Art Editor, Sarah became Creative Director in 2012, before being named Editor-in-Chief in 2017. During this time she has commissioned an array of illustrious artists and designers including Jean Nouvel, Yayoi Kusama, Tom Sachs, Nendo, Virgil Abloh and Jenny Holzer; championed talents such as Formafantasma, Sabine Marcelis, Martino Gamper, Bethan Laura Wood, Philippe Malouin, and Craig Green; and overseen partnerships with leading brands including B&B Italia, Prada and Rolex. Sarah is also a member of the judging panel for the London Design Medal, and regularly judges for international design competitions.