Stay at a luxury treehouse at Loire Valley Lodges in the heart of a French forest
Loire Valley Lodges is a one-of-a-kind retreat in private French woodland that celebrates the physical and mental health benefits of being surrounded by nature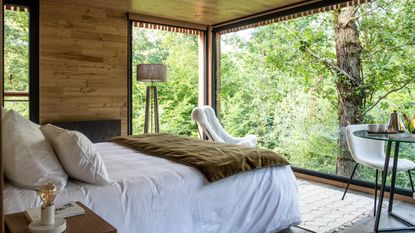 (Image credit: Loire Valley Lodges)
Wallpaper* Newsletter
Receive our daily digest of inspiration, escapism and design stories from around the world direct to your inbox
Thank you for signing up to Wallpaper. You will receive a verification email shortly.
There was a problem. Please refresh the page and try again.
Loire Valley Lodges is a unique destination located within 300 hectares of private woodland in Esvres, central France. The hotel comprises 18 luxuriously appointed treehouses, placed in a beautiful setting that feels secluded and otherworldly, and yet is only two hours away from Paris.
It was founded by former art dealer, Anne Caroline Frey, who envisioned a sanctuary where guests could relax while immersed in art and nature. The hotel encompasses a monumental sculpture trail and Frey's personal collection of sculptures and paintings appears throughout the hotel. The boutique lodges are chic and comfortable – each has its own distinctive decor featuring original works by contemporary artists, and the huge floor-to-ceiling windows offer breathtaking panoramic views of the forest with its magnificent Douglas fir and chestnut trees.
Frey is a passionate advocate of 'sylvotherapy', or forest bathing (the word derives from the Latin for forest: 'sylva') which advocates for physical and mental health enhancement through the energy of trees. Speaking about the healing power of trees, Frey says: 'I quickly understood how essential they were to our balance, our well-being, and all the benefits they produced on our physical and moral health. I wanted to build a top-of-the-range living space in the heart of the forest, to share this philosophy with people like me. Open individuals, who are sensitive to raw nature, but who do not necessarily want to sleep in a tent under the stars.'
Frey's vision has been lovingly fulfilled, and every detail considered with the aim of creating an extraordinary haven in which to unwind. Loire Valley Lodges is an unapologetically adult-only and 'digital diet' environment – not geared towards family holidays and with rooms that are TV and WiFi free. This is a surprisingly liberating part of the experience (if you must, WiFi is available at the reception and restaurant area of the hotel) but each lodge is provided with a radio to make contact with the staff and an iPad preloaded with a playlist reflecting that lodge's style.
The treehouses are spaced well apart to allow for perfect privacy. Perched four metres high within a canopy of trees, each has a spacious terrace complete with a decadent hot tub where you may contemplate the universe, accompanied only by the sounds of birdsong and leaves rustling in the breeze. There are no cars in this forest, travel is by foot or one of the numerous sturdy bicycles that are available for guests' use. You may choose to while away an afternoon wheeling along the forest paths, explore the surrounding countryside, or cycle to the nearby river for a swim.
The hotel offers a wonderful variety of ways to indulge the senses, among them a 65-foot pool, along with a spa and wellness activities, and the opportunity to enjoy an open-air massage on the terrace of your lodge.
Breakfast is delivered in a basket that is hoisted up to your treehouse with a pulley. It contains a delectable array of the finest local produce, including seasonal fruit, forest honey, handmade cheese, and a selection of superb bread and pastry.
Outstanding cuisine is a highlight of the hotel, with chef Thomas Besnault at the helm of its award winning restaurant, 'Ardent'. The finest products of the Loire region are served, including crops from the hotel's own organic kitchen garden. A second restaurant, 'Asperatus' has recently been unveiled, and is dedicated to a calendar of chefs in residence. Some of the best chefs in the world are invited to showcase their skills and unique cooking styles in the hotel's outdoor kitchen, set in a picturesque courtyard.
You could easily pass all your time in this private forest realm, but if you wish to venture further afield, this part of France is rich in fascinating heritage and places to explore. The region is known as France's 'Valley of the Kings' – its proximity to the capital and excellent hunting grounds made it a favoured location for extravagant chateaux – most notably, the nearby Chateau de Chenonceau, which dates from the 16th century. You may survey the area from above and take an exhilarating hot air balloon ride, or choose a sedate boat trip along the River Loire, before heading back to the tranquillity of your forest idyll.
Receive our daily digest of inspiration, escapism and design stories from around the world direct to your inbox
Melina Keays is the entertaining director of Wallpaper*. She has been part of the brand since the magazine's launch in 1996, and is responsible for entertaining content across the print and digital platforms, and for Wallpaper's creative agency Bespoke. A native Londoner, Melina takes inspiration from the whole spectrum of art and design – including film, literature, and fashion. Her work for the brand involves curating content, writing, and creative direction – conceiving luxury interior landscapes with a focus on food, drinks, and entertaining in all its forms