The Leaf is a feat of engineering and an ode to the Canadian Prairies
The Leaf in Winnipeg, Canada, is the first interactive horticultural attraction of its kind: a garden and greenhouse complex promoting a better understanding of how people can connect with plants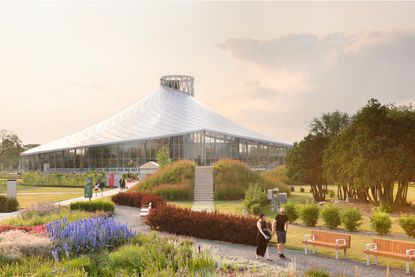 (Image credit: Ema Peter)
Wallpaper* Newsletter
Receive our daily digest of inspiration, escapism and design stories from around the world direct to your inbox
Thank you for signing up to Wallpaper. You will receive a verification email shortly.
There was a problem. Please refresh the page and try again.
Situated deep in the Canadian prairies, Winnipeg's The Leaf is a new, format-defying greenhouse complex and horticultural attraction. The city, a relatively remote, mid-sized urban centre, is used to experiencing acute fluctuations in temperature. While long winters often see averages hovering around -40°C, summer days peak at +40°C. It's no wonder that, like other northern metropolises, the city's 750,000 residents benefit from a network of above and underground passageways, if not also a swathe of climate-resilient construction projects that model the latest low-energy consumption and low-tech climate control solutions. Addressing temperature extremes is a way of life here – and The Leaf truly embraces this and a particularly sustainable architecture approach.
The Leaf: at one with nature in the Canadian Prairies
Positioned on a northwest-southeast axis within the city's beloved Assiniboine Park, the new 14-hectare destination features everything from teaching kitchen gardens to integrated amphitheatres, and collaboratively programmed grounds paying tribute to the long-undervalued Indigenous cultures of the area.
At the centre of this meticulously and consciously landscaped campus is a 7,840 sq m greenhouse incorporating two distinct climate biomes, a butterfly garden, classrooms, a sizable event space, and a top-ranked restaurant sourcing ingredients from the 12,000 or so on-site plantings; some emphatically native and others coming from further afield.
Toronto-based firm KPMB Architects teamed up with local practices Architecture49, Blackwell Structural Engineers, and HTFC Planning & Design to painstakingly develop this main pavilion over the course of 12 years. 'We wanted to create a transcendent experience,' says KPMB partner and lead architect Mitchell Hall. 'The structure is inspired by nature with a roof that unfurls like a petal with diverse biomes inside encouraging curiosity, learning, and delight at every turn.'
Fanning out from a conical core that contains elevators, stairwells, and other facilities, the Fibonacci sequence-shaped (in plan) biodome is defined by a system of suspended steel cord cable-net canopies anchored along the building's exterior like a tent. This 33m diagrid champions the use of innovative Ethylene Tetrafluoroethylene (ETFE), a flexible, lightweight, 'breathing skin' material that achieves next-level thermal performance.
The double layered film forms hundreds of cushion pockets taking in pumped-in air at different intervals to regulate temperatures in each space. This system does so without blocking out much-needed sunlight. 'If we'd have used glass, there would be large structural beams obscuring direct sunlight and in turn taking away from the optimal level of light penetration for plant growth,' Hall says.
This focal-point convex roof drapes over the nautilus-shell floorplate, carved out perfectly to accommodate a more temperate Mediterranean Biome– fashioned like a terraced Greek garden – and a humid Hartley and Heather Richardson Tropical Biome. The latter comes complete with an 18m-high waterfall and third-level catwalk framing striking views below.
The Leaf greenhouse strategically angles southwards at the edge of the sprawling Assiniboine Park, designed by Frederick Todd in 1904, following the tradition of late 19th-century Garden Movement heavyweight Frederick Law Olmsted (think Central Park). Making ample use of lower sun paths specific to this northern region, the impressive structure takes in ample heat in the winter but is regulated thanks to carefully monitored and sensor-automated vents, underground air ducting, and geothermal pumps. The use of other unconventional, pre-air condition HVAC solutions like slatting, double façades, overhangs, and site responsiveness is a strategy KPMB has often implemented. Winnipeg's large, mid-rise Manitoba Hydro office tower, completed in 2009, is yet another shining testament to this environmentally sensitive approach.
The ambitious The Leaf project – a 130 million CAD investment from the city and other governmental partners – represents a feat of engineering, collaboration, and rigorous placemaking, the development of new or restored locales that tactfully negotiate between different historical narratives and contemporary requirements.
Since its soft opening in late 2022, The Leaf has quickly emerged as Winnipeg's pride and joy – a monument to the city's plucky resolve, cultural diversity, experimental spirit, and appreciation of nature; even in its extremes. A newly formed hill abutting the structure's northwestern rear now serves as a much-needed tobogganing (sledding) piste; something that's hard to come by in this particularly flat but snowy environment.
This project is also a game changer when it comes to the age-old tradition of ecological conservation and building of conservatories around the world. The Leaf replaces a classic-style greenhouse that was equally cherished but that had succumbed to significant disrepair. This dynamic structure and the multipronged programming it facilitates serve as an example to other cities, especially those in serious need of better connecting their citizens with nature.
Receive our daily digest of inspiration, escapism and design stories from around the world direct to your inbox