Inside Venice Venice Hotel, 'as far from a typical "art hotel" as possible'
The oldest palazzo on the Grand Canal, the Venice Venice Hotel is launching an ambitious new expansion project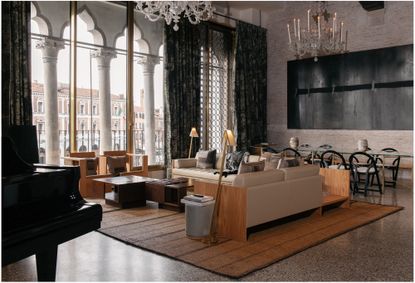 (Image credit: Federico Torra)
Wallpaper* Newsletter
Receive our daily digest of inspiration, escapism and design stories from around the world direct to your inbox
Thank you for signing up to Wallpaper. You will receive a verification email shortly.
There was a problem. Please refresh the page and try again.
The Byzantine palace Ca' da Mosto sits at a prime location on Venice's Grand Canal, just as it bends to meet the Rialto Bridge, offering uninterrupted views of the famous landmark. It's the same panorama that 18th-century Venetian painter Canaletto would carefully reproduce while sitting at the palazzo's second-floor window, his light-drenched depictions of the scene exactly matching that privileged perspective.
Built around the 11th century, it is widely agreed that Ca' da Mosto is the oldest structure lining the ancient waterway and, unsurprisingly, it plays an important role in the city's history. From around the 1500s, the palace was home to the Campiello del Leon Bianco, one of Europe's first hotels and a significant Grand Tour stopping point. Over the centuries, kings, czars and emperors, as well as figures such as Voltaire, Mozart and Shelley, all spent time within its fresco-laden walls.
The Venice Venice Hotel
Since 2022, the palazzo has been the Venice Venice Hotel, an art hotel conceived by Alessandro Gallo and Francesca Rinaldo, the husband-and-wife founders of sneaker brand Golden Goose. In late 2023, the couple will officially open the hotel's second wing, which promises to host the largest and most luxurious hotel room in Venice yet.
When Gallo and Rinaldo first conceived the idea of the Venice Venice Hotel, they were looking to embark on a project that would let them express their creativity in all its different facets. In the flurry of growing the Golden Goose brand, which they founded in 2000 and sold in 2017, their attention needed to be laser-focused. During their years spent building a sneaker empire, they missed having the freedom to pursue other interests.
'For us,' Gallo says, 'fashion was not enough.' According to him, their dream project encompassed a passion for art, design and food, as well as Venetian culture and history (the couple hail from nearby Mestre). 'Hospitality is the only way to touch all of these things. You can meet people, you can eat, you can have fun, you can visit art, you can sleep,' he says.
When they first set out to acquire the building, however, their own hotel was the furthest thing from their mind. They collected the palazzo in ten different pieces – one apartment at a time, over five years – simply as a real estate investment. 'A lot of the major hospitality brands had had their eye on this location,' says Gallo. But it was only after the couple commissioned a study into the building's history did they realise its significance. 'It was clear to us that it needed to be a hotel once again,' Gallo says. 'And that we should be the ones to do it.'
The next five years were spent on restoration, working with a team of historic Venetian architecture experts. 'The building had been abandoned for half a century. It was falling into the Grand Canal,' says Gallo. They tried their best to preserve every last detail. That meant sealing the lower-level floors (which, due to gradual sinking and rising waters, now sat roughly a metre below water level) and completely reinforcing the ornate Byzantine façade carved out of millennium-old marble. Composed of ancient bas-reliefs stacked between rows of arched windows, it was in danger of peeling off the structure entirely.
The hotel's first 25 rooms, which opened in 2022, were each inspired by a different artist or movement. 'My wife and I have been collecting art for 25 years. We've developed many relationships with artists and curators, but we wanted the Venice Venice to be as far from a typical "art hotel" as possible,' says Gallo. 'The art isn't an afterthought. Instead, it is born with the room.'
You can stay in a canalside suite conceived as an homage to Christo and Jeanne-Claude, with original sketches of their landscape-spanning installations, or an attic room dedicated to the Fluxus movement, including a looping video of I Like America and America Likes Me, a 1974 performance by Joseph Beuys. Or, spend a morning in side-by-side soaker tubs meditating on a John Cage score.
Naturally, one room has been given over to pieces that debuted at the Venice Biennale. Among them is a single element of Enzo Mari's 1973 Falce e Martello, a life-sized wooden puzzle that, when put together, takes the shape of a hammer and sickle.
For the second phase, which is gradually being opened over the course of this year, they were even more ambitious, with larger, more elaborate rooms, masterpiece works from some of the 20th century's most revered names, and site-specific installations by a host of contemporary artists.
Among the collaborators is Romanian artist Victoria Zidaru, who designed the hotel's spa treatment room. 'About five or six years ago, during the Biennale Vernissage, I stopped [by] the Romanian cultural institute,' Gallo recalls. 'There was this small woman standing with her artwork and she told me about her approach – her work with natural elements, her connection with spirituality and the land where she lives. At that moment, it came to my mind that I wanted the room to become a piece of art itself – and I wanted her to do it,' he adds. Following the conversation, the couple flew to northern Romania, where Zidaru lives, to develop the project together. The result is an installation of woven fabric tubes filled with fragrant grass and flowers from Zidaru's farm.
In addition to practising artists, Gallo and Rinaldo were also keen to include the masters. In a suite on the palazzo's piano nobile (currently Venice's largest suite, this two-floor, two-bedroom apartment boasts a grand piano and double-height windows overlooking the Grand Canal), they wanted a work as spectacular as the space. 'It's where Canaletto used to paint,' says Gallo. 'We wanted to celebrate it with one of our favourite art movements, Arte Povera, and one of our favourite artists, Jannis Kounellis.' The couple acquired a large 1985 painting from the painter's private collection.
When they open in late 2023, the hotel's crowning jewels will be two waterside suites, which, at around 200 sq m each, will eventually oust the Kounellis room as the city's largest. The first will feature direct access to the water and function like an apartment for guests embarking on longer stays. The second will boast a private indoor pool, the only one of its kind in Venice.
But Gallo's main concern at the moment is finding the perfect artist to bring his vision to life. 'I think,' he says, 'we'll dedicate the pool suite to David Hockney.'
A version of this article features in the September 2023 Style Issue of Wallpaper*, on sale now available in print, on the Wallpaper* app on Apple iOS, and to subscribers of Apple News +. Subscribe to Wallpaper* today
Receive our daily digest of inspiration, escapism and design stories from around the world direct to your inbox
Laura May Todd is a Canadian-born, Milan-based journalist covering design, architecture and style. In addition to the Italian dispatches she writes for Wallpaper*, she regularly contributes to a range of international publications, including T: The New York Times Style Magazine, Architectural Digest, Elle Decor, Azure and Sight Unseen. Prior to her work as a journalist, she was assistant editor at London-based publishing house Phaidon Press.