An all-American classic gets the high-end retromod treatment, courtesy of Texas-based Vigilante 4x4
Vigilante 4x4's Jeep Cherokee and Wagoneer models are classic on the outside with modern muscle and technology under the skin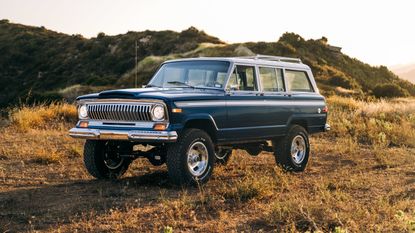 (Image credit: Vigilante 4x4)
Wallpaper* Newsletter
Receive our daily digest of inspiration, escapism and design stories from around the world direct to your inbox
Thank you for signing up to Wallpaper. You will receive a verification email shortly.
There was a problem. Please refresh the page and try again.
We've seen a wide array of classic cars subjected to the fashionable retromod process, from electrified classics to revived Porsches and EV Range Rovers. In the States, Jonathan Ward's company Icon4x4 has transformed 1960s SUVs into cult Hollywood must-haves, while Rob Dickinson turns vintage Porsches into bespoke supercars.
Daniel and Rachel van Doveren started out in the restoration business, creating exacting upgrades of vintage Jeeps via their company JeepHeritage. Now they've launched Vigilante 4x4, specialising in overhauling and updating the brand's larger models, specifically the Jeep Cherokee (1974-1983), Jeep Wagoneer (1964-1991), Jeep J-truck (1964-1983). The end results are meticulous machines that bring these proto-luxury SUVs right up to the present day. Each car is assigned two full-time builders, with just four cars in progress at once, taking up to 2,500 hours of work to give it a thoroughly modern specification.
Wallpaper* spoke to the van Doverens about their ambitions for the brand.
Meet Vigilante 4x4
Wallpaper*: When did you realise there was a market for this level of restomod in the 4x4 market?
Daniel and Rachel van Doveren: I think that it took a mix of a couple of things before we really put down the pedal to the metal. Brands like Icon and Singer have geeked out for years on the Toyota, Ford and Porsche brands. I remember Jonathan Ward telling Rachel and me during a visit in 2019: 'Just do it. Build it right and to your standards and it will sell.' He was right. We owe a lot to him and his wife and have deep admiration for what they have built with Icon.
Also, a lot of what we do today would not have been possible ten years ago. Low-volume CNC machining, in-house CAD engineering, 3D scanning, 3D printing... all of those have become so much more accessible. Over the years, our sister company JeepHeritage has earned the reputation of being the go-to high-quality classic restoration shop for classic Grand Wagoneers, Cherokees and CJ's (Classic Jeeps).
2020 was the year that we decided to put some serious skin in the game. It took a complete year of R&D and over a million dollars to get the formula right on the first Grand Wagoneer. 2021 was the official launch and it has exploded since then. I am a believer that true craftsmanship and passion are reflected in each build that rolls out of the Vigilante process and that is exactly why people engage with us. Each vehicle beholds its original body that gets restored in a traditional and respectful way.
A lot of restomod shops are able to put together complete [Ford] Broncos out of a parts catalogue. That is absolutely not possible with classic Jeeps as there are practically no aftermarket parts available for them. Those builds rarely have a soul or identity as Vigilante is the exact opposite. We emphasise the original essence of the Jeep and we revisit its purpose in a modern context.
W* What are the technical challenges involved in upgrading a Cherokee with so much power? How are the other mechanicals upgraded?
D & R van D: More power is great but it comes with a price. Everything from transmission to transfer case, suspension, steering, axles, brakes, chassis and cabin safety equipment needed to be revisited in order for us to take responsibility for the product that we deliver. If you don't do that, a chain-reaction of drama and breakages is guaranteed. Adding power to the stock chassis is only possible up to around 300 horsepower. The original Jeep chassis is known to crack and bend once you go over that number.
As a result, everything is new from the fully boxed chassis to the brakes and transmissions. That means we can host the entire line-up of drivetrains supplied by Mopar [the official Jeep parts supplier], all the way up to the Viper V10. Our Jeeps are also designed to be serviced at your local Jeep/Dodge dealership and comply with local regulations.
W*: Are there also upgrades to the audio/in-car entertainment, or do customers prefer to keep things stock?
D & R van D: We rarely need to upgrade anything as what we use in the standard production vehicles sets the bar pretty high already. The original Jeep radio unit is gutted and now interfaces with HD radio, Sirius and Bluetooth. Modern DSP and JL Audio amps and speakers all come standard. It is basically a concert hall operated from an original-looking interface. You can shuffle through Spotify or iTunes songs with the 1970s Jeep radio interface.
W*: Do customers provide their own cars or can you source models to work with?
D & R van D: It's a mix of both. Nostalgia plays a big role in what we do. Everyone has a story with the Jeep that they are looking to build. In some cases, the vehicle has been with the family since day one and it is important to the client that we start with that specific vehicle. In other cases, the demand comes from a vague memory and we are happy to source the Jeep from our inventory for that client and build from that memory.
Each build starts with a rendering from our colleague Tavis Highlander. That can go back and forth a couple of times between Tavis and the client until we have exactly what the client imagined on the screen. Our role is to stay true to the original DNA of the Jeep so you won't see flashy radios, custom aftermarket wheels or bumpers on the Vigilantes. Everything has been carefully redesigned and takes account of history in a modern context. Our wheels are machined from big blocks of aluminium, as are the hubcaps. They might look stock, but they are just a notch bigger so we can accommodate new brakes. The same goes for steering wheels, emblems, mirrors, tailgate light housings.
W*: What other upgrades have been requested?
D & R van D: Retractable power steps have become so common on modern vehicles that people miss them on their classic toys. We are working on offering this as an option on all Vigilantes. Cup holders were never available in the older Wagoneers/Cherokees. We are working on a retractable solution coming out of the centre armrest that you can elegantly tuck back into place when not being used. Functional yet discreet. Not yet available, but soon. All the rest is pretty much covered. We have ice-cold modern A/C in the entire cabin that is operated through the original push-button interface. It is all in the details.
For more details, visit Vigilante4x4.com
Receive our daily digest of inspiration, escapism and design stories from around the world direct to your inbox
Jonathan Bell has written for Wallpaper* magazine since 1999, covering everything from architecture and transport design to books, tech and graphic design. He is now the magazine's Transport and Technology Editor. Jonathan has written and edited 15 books, including Concept Car Design, 21st Century House, and The New Modern House. He is also the host of Wallpaper's first podcast.